Seattle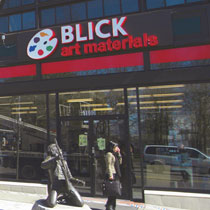 Store Hours
Mon:

9:00AM - 8:00PM

Tues:

9:00AM - 8:00PM

Wed:

9:00AM - 8:00PM

Thurs:

9:00AM - 8:00PM

Fri:

9:00AM - 8:00PM

Sat:

9:00AM - 8:00PM

Sun:

11:00AM - 7:00PM
Loading...
Public Transportation: Pine & Broadway: 10, 11, 49 Buses First Hill Street Car (stops on Broadway at Pine)

We validate your first hour of parking with any $10 minimum purchase. Parking is located on Nagle Place, just around the corner from our store.
Visit the Seattle BLICK store, located in the Capitol Hill neighborhood in Seattle, WA. Shop a wide assortment of quality art supplies including painting supplies, canvases, brushes, drawing supplies, ceramics and printmaking supplies, easels, art paper, frames, art books, craft supplies, and unique gift items. BLICK Art Materials has the greatest selection of art supplies for professional artists, educators, and students alike. Visit our Custom Printing & Framing department and let us help you find the perfect printing or framing package for your latest work of art. We proudly partners with Pratt Fine Arts Center, Gage Academy of Art, and Treehouse for Kids. We also support the Pacific Northwest Chalkfest, Gage Drawing Jam, The Battle in Seattle, and host a Spray Paint Showdown every year. It's easy to feel like you're a part of BLICK when you come into our store. We're friendly, welcoming, and most of all, knowledgeable in all areas of art supplies. We're located across the street from Seattle Central College, just two blocks from the light rail station, right in front of the legendary Jimi Hendrix statue, a life-sized bronze sculpture by artist Daryl Smith. We look forward to helping you today! Note: Prices and selection may vary between DickBlick.com and our retail stores. All prices are subject to change without notice. All locations are owned and operated by BLICK Art Materials, family-owned and serving artists since 1911.Prices and selection may vary between the internet and our retail stores and all prices are subject to change without notice.
All of our locations are company owned and operated.