Portland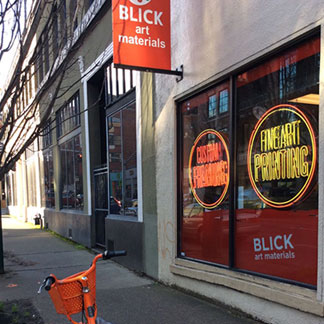 In-Store Shopping
Store Pickup
Delivery
Public Transit Options: The streetcar stops nearby at the corner of 11th and Glisan. Bus #77 runs west and stops at the corner of 12th and Glisan. The green and yellow MAX lite trains stop at 5th and Glisan.
Store Hours
Mon:

10:00AM - 7:00PM

Tues:

10:00AM - 7:00PM

Wed:

10:00AM - 7:00PM

Thurs:

10:00AM - 7:00PM

Fri:

10:00AM - 7:00PM

Sat:

10:00AM - 7:00PM

Sun:

10:00AM - 7:00PM
Loading...
Visit the Portland BLICK store located in the Pearl District, the heart of Portland's art & gallery scene, in Portland, OR. Shop a wide assortment of art supplies, craft supplies, and unique gift items, and we also carry kids craft products, stationery, and a variety of writing pens. We have the greatest selection for professional artists, educators, and students alike – and it's all available at your area art supply store.

Visit our Custom Printing & Framing department and let us help you find the perfect printing or framing package for your latest work of art.

We proudly serve Portland State University (PSU), Pacific Northwest College of Art (PNCA), the Portland Art Museum's "Monster Draw", the Oregon Society of Artists, and p:ear, a local homeless youth program. We also participate in Rose City Comic Con in support of the illustration and Cosplay community.

It's easy to feel like you're a part of BLICK when you come into our art supply store. We're friendly, welcoming, and most of all, our knowledgeable staff is ready to assist you. We look forward to helping you today!

We're located in the Pearl District, just a five-minute walk from the famous Powell's City of Books and close to Jamison Square and Portland Park.

Note: Prices and selection may vary between DickBlick.com and our retail stores. All prices are subject to change without notice. All locations are owned and operated by BLICK Art Materials, family-owned and serving artists since 1911.