Cleveland Heights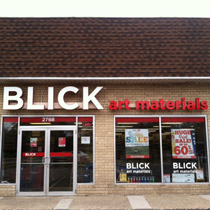 Store Hours
Mon:

9:30AM - 7:00PM

Tues:

9:30AM - 7:00PM

Wed:

9:30AM - 7:00PM

Thurs:

9:30AM - 7:00PM

Fri:

9:30AM - 7:00PM

Sat:

10:00AM - 6:00PM

Sun:

12:00PM - 5:00PM
Loading...
RTA Number 9 drops off right across the street!

6 spots in front of our store.
Visit the Cleveland Heights BLICK store located in Cleveland Heights, OH. Shop a wide assortment of quality art supplies including painting supplies, canvases, brushes, drawing supplies, art paper, ceramics and printmaking supplies, easels, frames, art books, craft supplies and unique gift items. We also carry specialty products such as limited edition pens, brush pens, markers, stationery, and an extensive line of printmaking papers and book binding supplies. BLICK Art Materials has the greatest selection of art supplies for professional artists, educators, and students alike. We proudly partner with the Cleveland Institute of Art (CIA), the Cleveland Museum of Art, SPACES Gallery, and schools in Shaker Heights, Cleveland, and University Heights. We support a variety of year-round events including the Monster Drawing Rally at SPACES, the Cleveland Museum of Art Chalk Festival, Coventry Comic Book Day, and GenghisCon. It's easy to feel like you're a part of BLICK when you come into our store. We're friendly, welcoming, and most of all, knowledgeable in all areas of art supplies. We are on the corner of Coventry and Mayfield, just one mile away from the Cleveland Institute of Art. We look forward to helping you today! Note: Prices and selection may vary between DickBlick.com and our retail stores. All prices are subject to change without notice. All locations are owned and operated by BLICK Art Materials, family-owned and serving artists since 1911.