New York City W 23rd St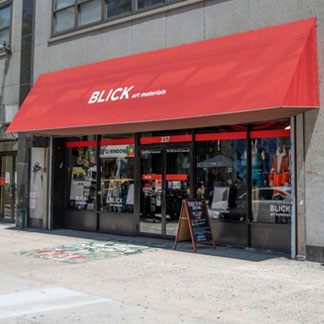 In-Store Shopping
Store Pickup
Delivery
Subway: 1,2 - 23rd Street, C and E - 23rd Street / Bus: M23 - West 23rd Street/7th Avenue, M7 and M20 - 7th Avenue/West 23 Streetve)
Store Hours
Mon:

10:00AM - 7:00PM

Tues:

10:00AM - 7:00PM

Wed:

10:00AM - 7:00PM

Thurs:

10:00AM - 7:00PM

Fri:

10:00AM - 7:00PM

Sat:

11:00AM - 5:00PM

Sun:

11:00AM - 5:00PM
Need it fast?
Create a Store Pickup List
Loading...
Visit the New York BLICK store located in the heart of Chelsea between 7th and 8th Ave. Shop a wide assortment of art supplies, craft supplies, and unique gift items. We have the greatest selection for professional artists, educators, and students alike – and it's all available at your area art supply store.

As the parent company of Utrecht Manufacturing founded over 65 years ago, we are proud to continue Utrecht's legacy of making top-quality handcrafted paint in the original Brooklyn, NY mill. Utrecht is officially recognized with Gold Certification by the Brooklyn Made program, sponsored by the Brooklyn Chamber of Commerce.

We proudly partner with local artists and arts organizations, and support a variety of community events right here in New York, NY. It's easy to feel like you're a part of BLICK when you come into our art supply store. We're friendly, welcoming, and most of all, our knowledgeable staff is ready to assist you.

We look forward to helping you today!

We're located between 7th and 8th Ave, across the street from the historic New York City Hotel and The Chelsea. Local transit includes: C E – 23rd St 1 – 23rd St A C E L – 14th St

Note: Prices and selection may vary between DickBlick.com and our retail stores. All prices are subject to change without notice. All locations are owned and operated by BLICK Art Materials, family-owned and serving artists since 1911.