Roswell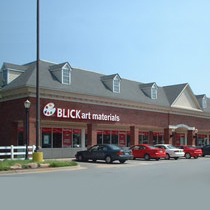 Store Hours
Mon:

9:00AM - 8:00PM

Tues:

9:00AM - 8:00PM

Wed:

9:00AM - 8:00PM

Thurs:

9:00AM - 8:00PM

Fri:

9:00AM - 8:00PM

Sat:

9:00AM - 8:00PM

Sun:

12:00PM - 5:00PM
Loading...
We are located inside Roswell Corners, behind the Chick-fil-A.
Visit the Roswell BLICK store in the Roswell Corners shopping center in Roswell, GA. Shop a wide assortment of quality art supplies including painting supplies, canvases, brushes, drawing supplies, ceramics and printmaking supplies, easels, frames, art books, craft supplies, and unique gift items. We also carry a variety of pouring mediums, Copic markers, Angelus leather paint, art resin, and art paper for all types of art media. BLICK Art Materials has the greatest selection of art supplies for professional artists, educators, and students alike. Visit our Custom Printing & Framing department and let us help you find the perfect printing or framing package for your latest work of art. We proudly serve Kennesaw State University (KSU) School of the Arts, Roswell Art Center West, The Art Place, and Roswell Fine Arts Alliance. We also support the Marietta/Cobb Museum of Art (MCMA) Chalktoberfest, KSU Springfest, Art in the Park, and the Booth Cowboy Festival. It's easy to feel like you're a part of BLICK when you come into our store. We're friendly, welcoming, and most of all, knowledgeable in all areas of art supplies. We're located between Hardscrabble Road and Mountain Park Road on Woodstock Road in the Roswell Corners shopping center, with plenty of available parking. We look forward to helping you today! Note: Prices and selection may vary between DickBlick.com and our retail stores. All prices are subject to change without notice. All locations are owned and operated by BLICK Art Materials, family-owned and serving artists since 1911.Prices and selection may vary between the internet and our retail stores and all prices are subject to change without notice.
All of our locations are company owned and operated.