Washington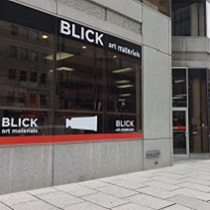 Store Hours
Mon:

9:00AM - 8:00PM

Tues:

9:00AM - 8:00PM

Wed:

9:00AM - 8:00PM

Thurs:

9:00AM - 8:00PM

Fri:

9:00AM - 8:00PM

Sat:

10:00AM - 6:00PM

Sun:

12:00AM - 5:00PM
Loading...
This location is on I "Eye" Street NW. Public Transit (Subway): - Metro Center (Blue, Orange, Silver, and Red Lines) - Macpherson Square (Blue, Orange, and Silver)
Visit the Washington BLICK store at McPherson Square and shop a wide assortment of quality art supplies including painting supplies, canvases, brushes, drawing supplies, art paper, ceramics and printmaking supplies, easels, frames, art books, craft supplies, as well as all our unique gift items. BLICK Art Materials has the greatest selection of art supplies for professional artists, educators, and students alike. Visit our Custom Printing & Framing department and let us help you find the perfect printing or framing package for your latest work of art. We proudly work with local artists and arts organizations, and support a variety of community events right here in Washington, DC. It's easy to feel like you're a part of BLICK when you come into our store. We're friendly, welcoming, and most of all, knowledgeable in all areas of art supplies. We look forward to helping you today! Note: Prices and selection may vary between DickBlick.com and our retail stores. All prices are subject to change without notice. All locations are owned and operated by BLICK Art Materials, family-owned and serving artists since 1911.Prices and selection may vary between the internet and our retail stores and all prices are subject to change without notice.
All of our locations are company owned and operated.