Solarplate Etching: An Eco-Friendly Alternative to Traditional Etching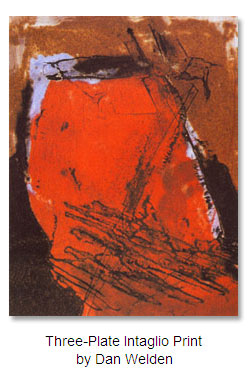 Traditional etching is a printmaking process that dates back 500 years. Unfortunately, it is not a very environmentally friendly technique, as it involves sheets of metal, usually made of copper or zinc, and acid used to etch the print onto the metal.
Enter Dan Welden, an artist who trained in Germany as a traditional lithographer but has always had a love of experimentation and an interest in making printmaking more user-friendly. In the early 1970s his investigations into safer and healthier methods led to the development of the technique now widely known as Solarplate printing. Solarplate printing or etching not only uses art supplies that are less toxic than those used in traditional printing methods, but are also more versatile.
In his 2001 book, Printmaking in the Sun, Welden explained how the process works: "You can create a piece of artwork on a transparent film; overlay it on a solarplate and expose the film and plate together in the sun. Effectively you're transferring a drawn image to the plate and the plate can be used to print either in relief or intaglio."
Solarplate is a light-sensitized steel-backed polymer material used by artists as an alternative to hazardous printing techniques. It is a simple, safe, and fast approach to etching and relief printing that does not use grounds, acids, or solvents. It is exposed with ultraviolet (UV) light and developed with ordinary tap water.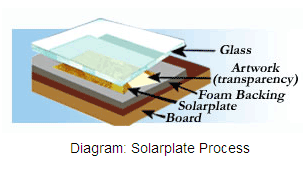 The process works by placing the transparency in contact with the plate (see diagram) and exposing it to the sun or in a UV exposure box. Exposure time can take as little as two minutes, depending on the time of day, season of year, and the geographic location of the exposing light source.
Solarplate classes can now be found at many schools, universities, and art schools throughout the world, as well as in independent artist workshops. Many artists, printmakers, and photographers from the student to professional level currently use Solarplate to create multiple impressions of their work, some of which have reached the level of being exhibited in New York's Metropolitan Museum of Art.
Solarplate, etching supplies, and books on the technique can all be found here on the Blick site.
To learn more about Solarplate, visit www.solarplate.com.