Grade Levels
Third Grade
Objectives & Concepts
To explore 3-dimensional investigation of artistic expression
To focus on a work of art created out of clay and a variety of materials rather than paint and paper
To introduce a Native American story, "How Grandmother Spider Stole the Sun", told by Joseph Bruchac, and the concept of folklore
To discuss Native American legends, how they relate to animals, and the cultural importance of both legends and animals
To complement the students' classroom studies of Native American history
To foster cooperation and discussion within the class dynamic by creating individual works after group interpretation of the story
Vocabulary
bisque, kiln, clay, Native American, diorama, tradition, folklore, 3-dimensional
Procedure
Read and discuss "How Grandmother Spider Stole the Sun".
Ask the children to recount the story, focusing on each animal's individual characteristics and how its attempt to steal the sun changed the animal, according to Native American folklore.
Explain that we are going to create a diorama, a piece of art which is 3-dimensional and which will illustrate a scene from the story.
Everyone creates his/her own diorama of one or two animals stealing the sun, as described in the story.
Evaluation
Students will understand how Native Americans passed information and tradition from one generation to another through stories.
Students will understand the concept of a diorama, and that artwork can be 3-dimensional and does not have to be created on paper to be considered "art".
Each student will create his/her own individual piece of art that interprets the story.
Students will successfully integrate a clay creation into a larger and different form of "art", a diorama.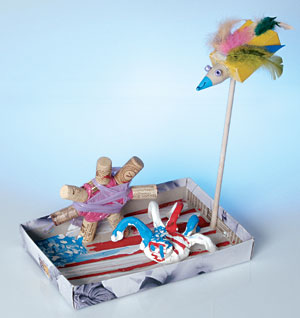 Materials
"How Grandmother Spider Stole the Sun" told by Joseph Bruchac, from Native American Stories, 1991 Fulcrum Publishing
recycled materials
Credits
submitted by Debbie Gershman
Renbrook School
West Hartford, CT