Molas are the brightly colored applique panels made only in the San Blas region of Panama by the Kuna Indians. The Kunas have resided in the Panama/Colombia area for centuries. They managed to survive successive waves of European exploration and settlement. During the 1800s, the Indians began migrating eastward. The commercial activity of this introduced them to cloth, scissors, needles, and thread, thereby beginning the body adornment and clothing that was needle worked. The Kuna Indian women's traditional costume is colorful and the wearer expresses pride in her Kuna identity.
The term Mola can mean "cloth," "clothing," or "blouse." Girls learn to make Molas at a young age. A woman might spend up to 100 hours completing a Mola. The source for traditional design inspiration for Molas include the following: natural-world native animals (iguanas, lizards, parrots, fish), local vegetation (palm trees, coconut crops, sea grasses), and the shapes of the coral reefs around the San Blas islands.
Grade Levels
Children in grades 4 through 6 will find this activity fun and enlightening.
Procedure
Choose 4 colors of paper. Cut out a design as the top piece. Choose a traditional Kuna Indian design for a shape.
Leaving a thin border, cut out the second color around the first shape. Glue the top to the second layer. You can use paper clips to help hold the paper together when cutting the shapes.
Then cut the third shape by layering the two glued shapes on top of the third. Glue all cut pieces together, being sure to leave a thin border around each time you cut. Save the black for last, as that is the traditional top layer.
From the scraps of paper left, cut out and glue details for eyes, mouths, or other ornamental traditional designs.

Once the paper Molas are completed, have the children discuss their importance to the Kuna Indian women and their culture. Have children imagine making Molas using the traditional appliqué. Would the children in your class have the patience to spend a hundred hours completeing just one as the Kunas often do? Display the paper Molas by mounting them onto a black piece of paper. Have children explain why they selected their island symbol as the focus of their own Molas.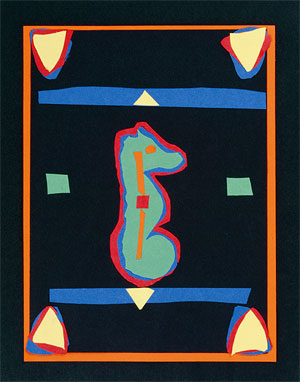 Resources
Molas!, K. Mathews (New York: Sterling Publishing, Co., 2000)
"Mola Inspired Stitches," School Arts, March 2000
Mola Cuna Life Stories and Art, Presilla, M.E., NY: Henry Holt and Company, 1996
Credits
submitted by Dianne Turner, D.Ed.
Califonia State University
Bakersfield, CA