Native American Indians are famous for their beautiful turquoise and silver jewelry and belts. Show different examples of Indian jewelry. Explain briefly that silver is a metal mined in the West, and turquoise is a stone found in the mountain areas of the West. The Indians, who were very close to the earth and spiritual people, believed that certain animals, birds, etc. possessed special powers. They would carve these spirit totems into their jewelry and then wear them for good luck.
Grade Levels
First Grade
Time Required
Three 45 minute lessons
Objectives
Art History — familiarization with Indian jewelry
Key Terms — silver, turquoise, textures, totems, symbols
Design — use of symbols and borders to create a design
Skills — understanding carving, texturing, clay techniques
Lesson 1 Procedure
Pass everyone a paper towel. Explain that this is their tray for under their jewelry. Write names on towels. Pass out the pendant and chunk to each student. Teacher demonstrates pinching up a small border/edge around the pendant, and a variety of textures possible with the tools on the table. Add textures to the pinched up edges and draw a symbol in the pendant.
Divide the clay chunk in half. Roll to a ball or tap to a cube or roll to a tube shape. Make both beads the same shape. Take the fat pencil and pierce the center of each bead until it is completely on the pencil.
Experiment with a different texture on each side of the beads; try to match the textures on both beads. The pencils turn easily to present a new side of both beads to work on.
Slide beads off and place on top of the pendant. The pinched edge holds them from falling. Teacher should carve names into back of the pendants before they dry, and add two pendant holes to each project.
Dry and fire jewelry.
Lesson 2 Procedure
Reminder that acrylic does not come out of clothes. Review of painting manners.
Paint on the mats and paint the top of pendant only with the gloss medium tinted with turquoise tempera paint.
Paint the top and sides of beads, fan gently. Turn and paint other side. Make sure to use the hard bristles to get into all the textures.
Clean and dry brushes thoroughly.
Lesson 3 Procedure
1. Teacher shows example of antiqued jewelry. The brown that is painted on today will dry and be washed off. It will only stay in the textures for an antiqued effect.
Paint the whole top of pendant (cover the blue).
Paint the tops and sides of the beads, fan dry, turn and paint the other side.
While the children are starting a new lesson next time, the teacher has already washed the jewelry, and they get to select the color cord as they are called up individually. They usually want to wear their new treasures. (Plastic cord will stretch to size so they can easily be taken on and off without untying.) It looks very nice to string pendant on middle of cord, make a knot above pendant using both strings, add one bead to each string, and knot both strings at back of neck.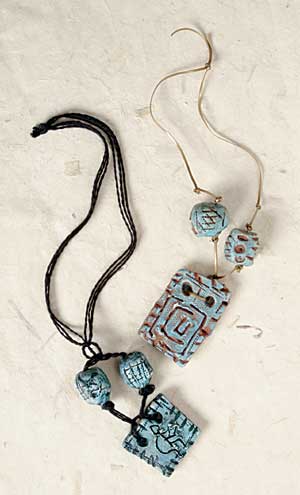 Materials
Native American music
white clay rolled into individual pieces approx. 2" × 3" and individual chunks about 3" long × 1½" wide
water buckets/sponges/dry towels
acrylic gloss medium tinted with turquoise tempera paint
sienna color tempera paint
small pans for water, paint, gloss medium
laminated, teacher-made Indian books of designs, symbols
Resources
Native Tribes of North America
Michael Johnson, Grammercy Books, NY 2000
Turquoise Jewelry
Nancy Schiffer Publishing, West Chester, PA 1990
Native Americans
Time Life Books, 1995
Credits
submitted by Anne Pietropola
Mechanicsburg School District
Mechanicsburg, PA.