The Huichol (pronounced Wee-chol) people inhabit the most remote parts of north central Mexico. These once nomadic descendents of the Aztecs are now an agrarian society farming in a difficult mountainous homeland. Originally intended as ceremonial offerings to the Spirits to insure a bountiful harvest, yarn paintings continue today as a testament to the whole of their religious and cultural beliefs. Filled with the iconography of their organizing mythology, these compositions are teeming with color and life. In simplest terms, these works document their life and relationships to the life forces of the spiritual world.
We begin by finding out all we can about their lives and works. Synthesizing this information as best we can, we move on to making our own yarn paintings infused with the same energy, spirit and color as our antecedents, but with a decidedly personal bent. Ask students to visually describe an especially significant summer event in their lives. Soon the classroom will be filled with the orations of enthusiastic young storytellers, which eventually leads to the vibrancy of their visual narratives. After designing several possible solutions, student and teacher should conference to choose the most articulate manifestation of their idea.
Grade Levels
Children in grades 4 through 6 will find this activity fun and enlightening.
Procedure
Each student is given a masonite board to serve as the support for their painting. Onto this base the student must transfer a design in Sharpie.
A layer of beeswax is built up over their sketch. To do this, have the student use a cheese grater to create beeswax shavings that are evenly dispersed on their boards. When heated with a heat gun the shavings melt out to a smooth, even consistency.
When the entire board is covered with beeswax, the real work of yarn painting begins. Students reheat small sections of beeswax at a time and fill in their design by pressing tight concentric contours of colored yarn into the softened wax. When cooled the beeswax holds the yarn firm and fast.
When all the projects are completed, hold a celebration for your own extraordinary colorful stories, realizing that such life affirming tales are important the world over.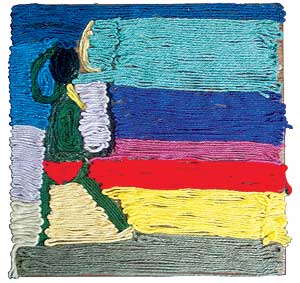 Materials
Masonite bases
Black Sharpie markers
Cheese grater
Resources
Folk Treasures of Mexico, Marion Oettinger, Jr.
Credits
Todd Johnson
Webb School of Knoxville
Knoxville, TN