The Aztecs believed they were living in the fifth and last creation of the world. They called each creation a sun, because movement of the sun maintained human life. It was during the reign of the sixth Aztec monarch in 1479 that the Aztec Sun Stone was carved and dedicated to the principal deity: the sun. The stone has both mythological and astronomical significance. Clay suns are still made in Mexico in a place called Metepec by the Nahua Indians, who are descendants of the Aztecs.
Grade Levels
Elementary
Procedure
Roll 3-4 ozs of white Model Magic into a ball (it is a clean medium and will not stain desks). Flatten the ball on the desk. Cut around the circular shape with a plastic knife. A radial template can be made from a manila file folder to help the children guide their radial sunrays around their suns. Cut the sunrays out.
Make facial features for the sun out of more Model Magic, pressing them so that they adhere to the sun shape. Allow the completed sun to dry (overnight).
Paint the suns using preferably acrylic paint or tempera paint. Acrylic gives the sun a more brilliant look. Apply gold paint around the rays, as is traditional in Mexican suns. When the paint is dry, spray a clear coat over it to give it a glossy sheen.
Once the sun gods are complete, you can mount them onto a colored piece of construction paper and glue that onto a piece of black posterboard or construction paper.
Discuss their sunís facial features in relationship to the sun faces of the Aztecs. Allow children to discuss their feelings about creating a sun god from a clay-like medium. How do they think it would be to carve a 25-ton Aztec Sun Calendar?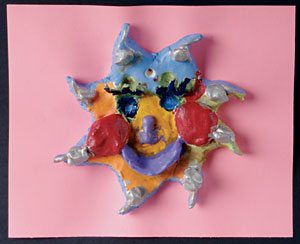 Resources
Hands-On Latin America
Yvonne & Merrill, Kits Publishing. 1997. Hong Kong
Kids' Multicultural Artbook
A.M. Terzian, Williamson Publishing Co. 1993, Charlotte, VT
Credits
submitted by Dianne Turner, D.Ed
California State University
Bakersfield, CA