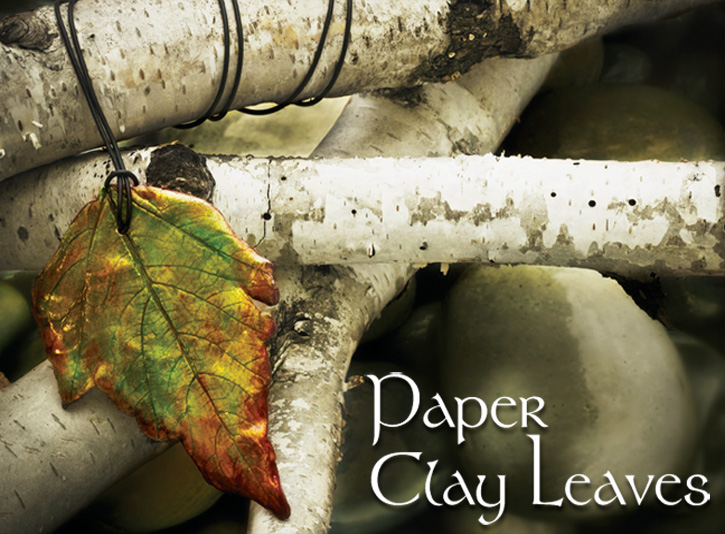 Interested in nature? Take a closer look at the intricate anatomy of a leaf by replicating it! Embossed paper clay and watercolors present a wonderful way to capture fine details - perfect for adding fanciful colors and effects. Great when worn as pendants, these lovely yet durable paper clay leaves can also be used for ornaments or decorations.
Preparation
Gather natural leaves the night before or in the morning of the project. Select leaves that have a thick veining and are structurally more resistant to pressure, such as hydrangea, maple or magnolia leaves. Small, thin leaves with minimal veining will break apart when embossed.
Divide Paper Clay into 1-oz pieces and store it in resealable plastic bags until ready for use, as it tends to dry quickly and may become unworkable.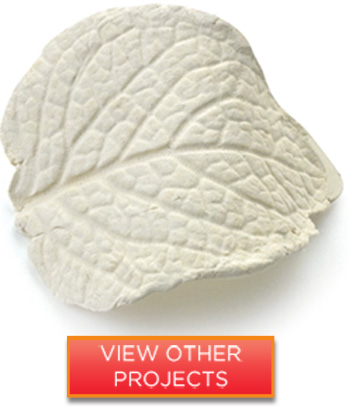 Process
Roll the clay into a cylindrical form for leaves that have a basic oval shape. For leaves that have extensions, such as maple leaves, roll out smaller coils of clay for each extension.
Place the leaf face down and impress the clay on the backside of the leaf. Spread the clay with your fingers to recreate the natural edges of the leaf. For leaves with extensions, impress smaller coils of clay on the extensions. Make sure to connect the pieces extremely well to avoid separation when the piece dries.
Carefully remove the moist clay from the natural leaf. Set the leaf aside as a color reference.
Allow the clay to dry fully. Drying time will depend on the environment, but most pieces will dry overnight. If the piece is to be used as a pendant or ornament, punch a hole through the clay with a toothpick while it's still moist.
Using the natural leaf as a reference, select watercolors that match the colors of the leaf. Or use your imagination and use colors that suit your fashion sense or decor.
Using the smallest round brush, select a vein color and apply watercolor to the veining. Because the watercolor can be blotted off or blended into other colors, don't worry about going outside the lines. Allow the vein color to dry for a few minutes.
Select a leaf tip color and brush-apply watercolor to the tips. Allow to dry.
Select a main leaf color and apply it with a larger brush to the body of the leaf. Allow to dry.
Revisit the dry watercolors with a water-dampened brush to blend and unify the colors. Additional colors may be added to enhance the creation.
Allow to dry fully.
Options
Apply small amounts of Pearl-Ex pigment to the leaves to add shimmer or glistening effects that look like frost or light reflecting on a dewdrop.
If desired, varnish the leaf to protect the paint from moisture. Choose a gloss varnish to add sheen to the surface or a matte varnish for a natural look. Pearl-Ex may be mixed directly into the varnish - apply a final clear coat on top.