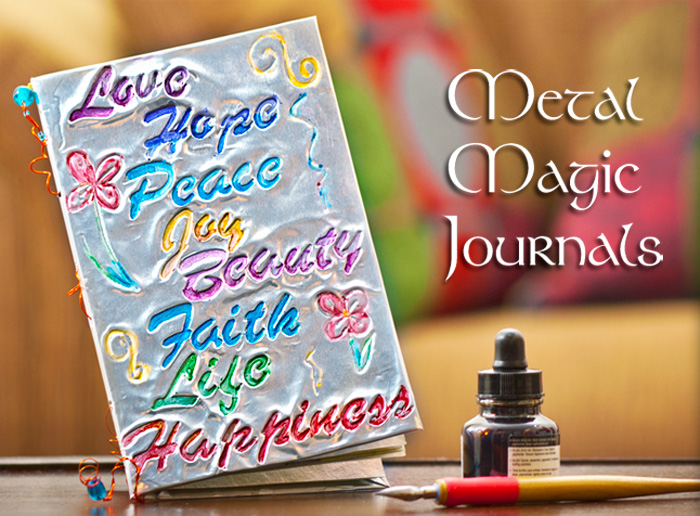 The magic is in the color! See how wax pastels adhere to the slick surface of tooling foil and stay there after you create designs in this lightweight metal and then asssemble a lovely hardcover book for sketches, journaling, scrapbooking or photos.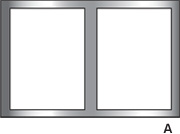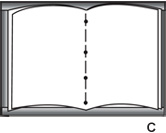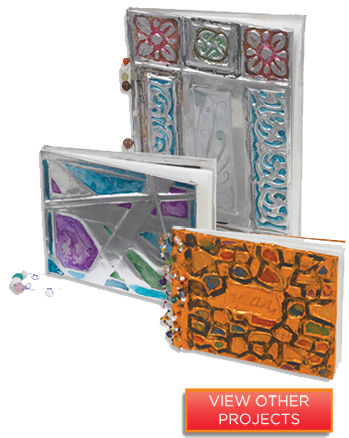 Preparation
Cut drawing paper into 8" × 10" pages (four per sheet). You'll need at least four pages. Fold pages in half. Cut chipboard to 5-1/4" × 8-1/4" pieces - 25 per each 28" × 44" sheet. You'll need two pieces.
Process
Position the chipboard on foil, see (A). Use a boxwood tool to trace borders around the board to define the covers of the book.
Place newspaper underneath and design your front and back covers using Creative Metal Tools, Design Sheets, Design Borders and boxwood tools.
Place the boards on the backside of the foil again. Fold the top and bottom edges over the boards and press down tightly, see (B), then fold the sides over thet boards and press down tightly. Use a flat wire through the pages and metal. Twist the wires and add beads to decorate the spine.
Add color to the metal using Water-Soluble Wax Pastels. Use them dry or dip them in water to apply to the recessed areas. Make small circles, allowing the color to flow like ink. Use a small paintbrush to move the color around and blend it. Layer colors over each other for more intense shades, or use tools to scratch designs back over the dry pastel.
Options
For a more economical journal, either make a half size 4-14" × 5" book or use Economy Colorfoil, availble in 4-1/2" wide × 20-ft rolls in Brass (60506-8410) or Coppertone (60506-8110). Note: Colorfoil is not as sturdy as ArtEmboss; avoid using excessive pressure when using tools.