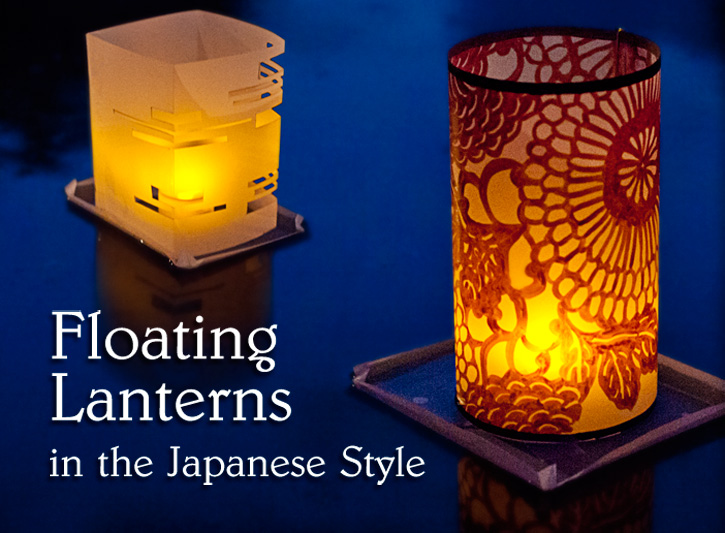 Traditional Japanese art is very much a part of everyday life and the Japanese find beauty in simple, humble things.
In Japan, many cities hold a beautiful yearly event called Toro Nagashi - the festival of Floating Lanterns. Related to Obon, a three-day period to honor the departed, Toro Nagashi is celebrated much the way we celebrate Memorial Day. Those who participate inscribe names, messages and drawings on paper lanterns attached to a wood or bamboo base, place a candle inside, and set the lanterns afloat in a lake or river. Hundreds of glowing, reflecting lights drift alongside boaters, often accompanied by music and fireworks.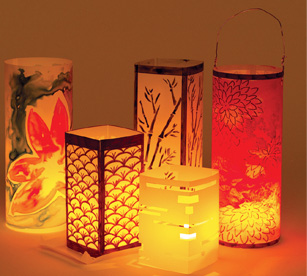 In this project, you'll learn how to make a lantern, either to float or to serve as a beautiful interior piece. A lantern can be as simple as a rolled cylinder, or it can be intricately designed. Using a synthetic paper called yupo will make your lantern more rigid, durable, heat-resistant and water-resistant than paper.
If you want to learn a little bit about Japanese aesthetics, writing, language and art before beginning this project, excellent lessons are available in Hands-on Culture of Japan, by Kate O'Halloran (71836-0002). Inspiring patterns and motifs can be found in Dover Pictura Japanese Designs (with CD) (71310-1008).
Preparation
Cylinders are the easiest shape to form. However, if you're making a square-shaped lantern, be sure to fold it before painting it. To create a square lantern, make a 1/2" crease on the short side of the yupo paper, fold the sheet in half, then fold both ends to the center crease (see A). Note: to create a hard crease in YUPO paper, use a burnishing tool such as a bone folder.
Prepare preliminary drawings on a separate sheet of newsprint paper. Because the yupo paper is so transparent, you'll be able to place your drawing underneath and trace it onto the yupo. Allow 1/2" on the edge of the design to allow for gluing.
Process
Decorate the lantern with paintings or patterns. Yupo paper works well with many different art mediums, including watercolors and permanent waterbased markers or inks, which are great for lanterns that will be used outdoor or as floats. Yupo's smooth, polypropylene surface won't absorb watercolor in the same way as traditional paper. The color will move and flow freely, and drying time will be slightly increased. Your artwork must be dried flat. Note: fingerprints on the yupo surface may leave oils that interrupt watercolor, ink or marker coverage. Use clean, dry hands and avoid touching the surface as much as possible.
Roll or fold the lantern and place a small amount of glue on one edge of the paper to join the ends together. Paper clips are helpful in securing the seam while the glue is drying. Avoid using too much glue and keep it away from your painting, especially if you're using waterbased media.
The safest way to illuminate the lantern indoors is to use a battery-operated candle with a low-wattage bulb. Votive candles (1-1/2" high) may also be used with caution. Place the votive candle in a glass holder at least 2" high and position it so that the sides of the lantern are not touching the candle holder. Important! Do not allow the flame to come in contact with the lantern and never leave the candle unattended. For outdoor use, place the lantern in a bowl and fill the inside with 2" of sand or pebbles. Place the votive inside and secure it in the sand or pebbles. To make a floating lantern, follow the directions below to make a base, then place the votive holder directly on the floating base.
To make a waterproof floating base for your lantern, cut a sheet of yupo paper into 4-1/2" × 6" pieces (four per sheet). Make a 1/2" crease on all four sides. Pinch the corners into an inward fold (see B). Secure the lantern to the base with transparent tape.
Options
Add a handle to your lantern by punching a hole on either side and twisting a 12" piece of wire through the holes.
Create cut-out shapes in the sides of the lantern with scissors or a craft knife.