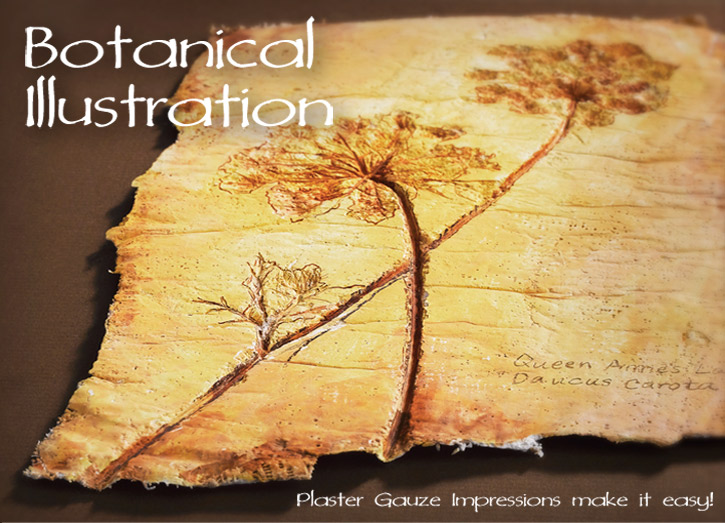 Since early times, detailed illustrations of plants have been drawn and painted to provide identification and reference, usually for medicinal purposes. In the age of exploration, a naturalist would be included on every ocean voyage to record new species of plants that were discovered in new lands.
Although photography and modern printing processes have replaced the need for cataloguing plant life by hand, botanical illustration is still a beloved art form. In this project, botanical renderings are created by making an impression in plaster, then tracing the shape and details with colored pencils, ink, or watercolors.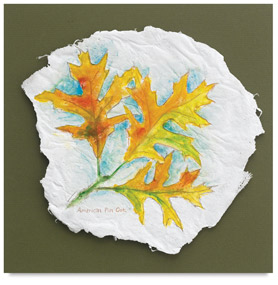 Preparation
Cut plaster cloth into smaller pieces. Plan on using at least one yard. You may need more or less, depending on the size of the botanical selection.
Cut a piece of wax paper approximately 12" square. If the project needs to be moved before it has dried, have scrap cardboard on hand to place beneath the wax paper.
Gather leaves, twigs, flowers, ferns, and other natural items. Dimensional items should be pressed flat, but not allowed to dry out. Very thick items, such as pinecones or seed pods, should be cut in half so they can be placed flat against a surface.
Process
Place the botanical selection on the wax paper. Cut the plaster cloth into 2" wide pieces and dip them into a cup of warm water to activate the plaster. Run your fingers along the cloth to remove excess water. Position the first pieces of plaster at different points on the botanical sample to hold it in place.
Continue adding wet plaster cloth pieces, pressing them firmly around the botanical selection. Smooth the plaster to cover the weave of the cloth. Allow the edges to form a natural deckle.
Apply a second layer of plaster cloth and press it firmly against the botanical selection. A third layer can be applied for greater strength.
Set aside for about an hour until the plaster feels dry and cool to the touch. Turn it over, remove the botanical selection and let it dry overnight. Keep the botanical selection on hand for color reference.
To add color to the plaster impression and turn it into an illustration, begin by tracing the shape and details with a neutral gray or brown pencil. Keep it light — creating a guide to follow is the first step.

Matching the color of the botanical selection as closely as possible, continue the illustration using colored pencils, watercolor pencils, watercolor paints, fine line markers, or a combination of these mediums. Use light applications in layers for best results.

Note: brush clear water over the plaster before applying watercolors for the softest, most natural look.
With a pencil or fine line marker, identify the botanical sample somewhere in the negative space surrounding it. Use the common name and the scientific name, if available.
Options
To provide support for the fragile plaster cloth, adhere the finished illustration to a rigid surface such as matboard.
Dimensional pieces may require extra support using Pop Up Adhesive Glue Dots