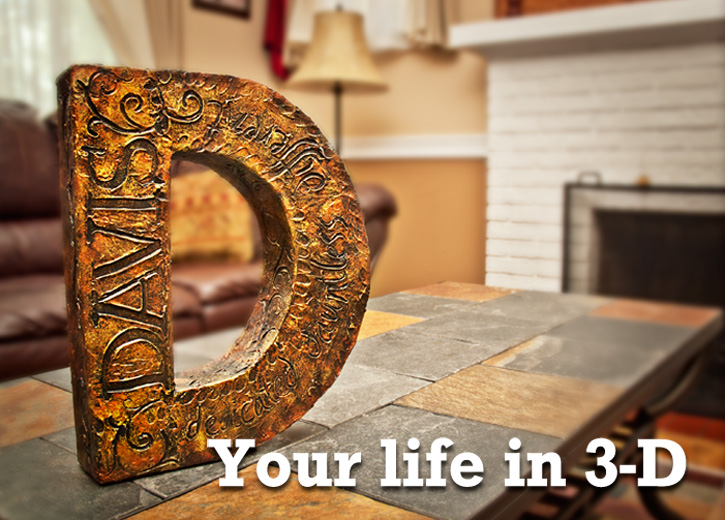 Have you ever seen large, decorative alphabet letters used as accents on bookcases, shelves or desks? In this project, you'll be designing and constructing a 3-D letter, then decorating it with words and images that are meaningful to you (or someone else). The surface decoration can reflect images or thoughts about your family, your friends, your profession, a favorite sport, or something else that defines or inspires you. Fun to create, these 3-D letters make great gifts and cost very little to make.
Instead of wet, messy adhesive, you'll be using paper packing tape to create a papier mache effect. Inexpensive and easy to use, it creates finished letters that are hard and durable. Design a logo or your own font - then make several letters to create words or even a phrase!

Process
Design the shape of a letter on drawing paper using a pencil. The outline of the letter should be a minimum of 2-1/2" thick in all areas, but it may be as large as 14" × 22" in overall size. Cut the letter out and use it as a pattern to trace onto both chipboard pieces, then cut out the chipboard pieces.
Take one chipboard letter, right side-up, and glue paper cups onto it, staggering them up and down so the cups fit together (see A). The more cups you use, the stronger the finished letter will be. Allow the glue to dry until it's tacky (or longer), then carefully glue the top letter in place. Be sure to align it with the bottom letter. Allow to dry completely.
Dampen a sponge and place it onto a plate. Cut the paper tape into a variety of lengths. Dampen the adhesive on the tape and press an end onto the top side of the letter. Smooth it gently around the side of the letter and adhere it to the back side. Continue until all surfaces are completely covered with at least two layers of paper tape. Apply the tape as smoothly as possible, avoiding excessive overlapping. The letter will look like (B).
As an option, apply two coats of acrylic gesso to make the surface white and help seal any edges. Allow the gesso to dry between coats.
Embelish the surface of the letter with descriptive words, images and symbols that are meaningful to you. Some options for surface decoration include:
Drawing: Coating the packing tape with acrylic gesso will create a smooth, white surface for drawing with colored pencils or markers; see example.
Collage: Collect photos, magazine cutouts, colorful paper, tissue and more. Apply them decoupage-style to the surface of the letter. Gesso is not needed as a primer for this technique.
Painting: Priming the surface with gesso first will make colors brighter and easier to apply. Use acrylic or premium-grade tempera colors to create designs.
Metallic/Gel Architectural Letter: Working on one side of the letter at a time, use a plastic knife or craft stick to spread gel medium to about 1/16" thickness across the surface. Use paint scrapers, modeling tools and other items to create words, textures and designs in the gel. The gel will appear white when wet but will be clear when dry. After all sides of the letter are textured and dry, paint them with black acrylic paint and allow them to dry. Sponge metallic color over the black paint.