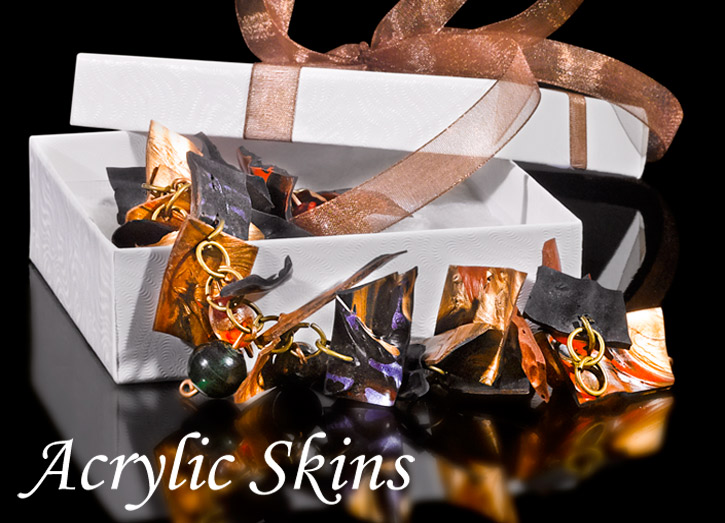 Unused acrylic paints are usually discarded when they dry out. Rather than throwing away your leftover paint, why not incorporate it into your next art project?

When acrylic paint dries, it forms a flexible "skin." If the skin is formed intentionally, it can be used to create mosaics, collages, jewelry, and much more!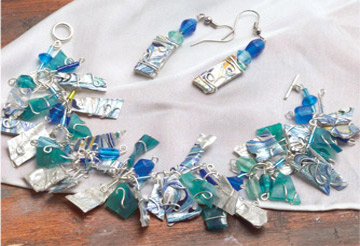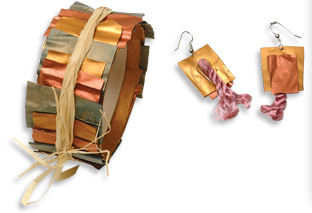 Process for making Acrylic Skins
To create a basic skin, you'll need a non-stick surface. Silicone-treated paper such as baker's parchment paper works well and is available at supermarkets. Spread the paper out on a tray or a piece of rigid, corrugated cardboard. If using paper, expect a wrinkled texture to form in the skin as the paint dries and shrinks. For perfectly smooth skins, use a non-stick palette, designed to allow paints to peel off smoothly.
Spread acrylic paint across the surface using a spatula or a piece of scrap cardboard. Ideas:
-Swirl colors together with a brush or wooden craft stick, leaving enough separation between the colors for intriguing patterns to form.
-"Marbleize" colors by spreading a dominant color first, then dropping small amounts of colors into it. Use a wide-tooth comb to drag colors in controlled patterns.
-Use metallic colors, glitter paint, texture mediums, or mix-ins such as crushed eggshells, sand, beads, or string to add texture and create special effects.
Allow the paint to dry completely for at least 24 hours. Drying time will vary depending on the brand of paint, the thickness of the paint, humidity, and other factors. You can decrease drying time by placing the paint in a sunny location or in front of a fan. Once the paint is completely dry, it will peel off easily in a continuous sheet. Parchment paper may be reused to make another skin.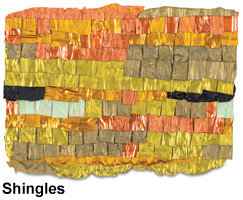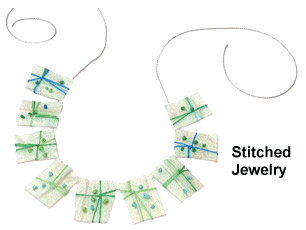 Ideas for using Acrylic Skins
Collage or "Shingles"
Cut shapes and pieces to use for collage. The "Shingles" mosaic shown here was made with pieces of acrylic skins that were cut and glued to a piece of matboard. They overlap, like a shingled roof. Skins and pieces of skins can be added to any mixed-media collage.
Jewelry Design
Cut small pieces from the skin and use them as beads for jewelry-making. They can be easily pierced and wrapped with jewelry wire, findings, or string, and then assembled to create unique pieces of jewelry.
Stitched Pieces
Make book covers, jewelry, wallets, and more by stitching pieces of acrylic skin together using a needle and embroidery floss.
Surface for Artwork
Use a full-size acrylic skin as a surface for further painting, printmaking, even pen-and-ink drawing.
Acrylics Mosaics
Cut acrylic skins into squares and other shapes to use for mosaic tiles. For the look of real glass, create transparent skins using the process described above, using polymer gloss medium as the predominant paint. Gloss medium appears white when poured, but dries transparent. Add very small amounts of color to keep it transparent.
Skins will dry with a very smooth surface on top. Cut the shape needed, then press the smooth side against a non-porous surface such as glassware, clear plastic film, glazed ceramic tile — even some plastics and metals. It will remain there long enough for the complete design to be created on the surface. Mosaic pieces may be peeled off and repositioned. They can also be stretched and curved around dimensional surfaces. Leave a small amount of space between each piece.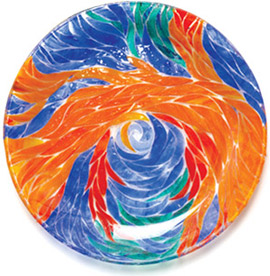 NOTE:If pieces don't stick well, try warming them by creating friction between your fingers or hands, or placing them in a sunny location.