return to

wisconsin map
Blick in Milwaukee Farwell, WI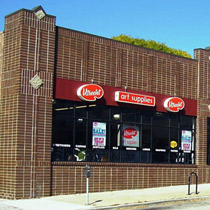 Address:
2219 North Farwell Avenue
Milwaukee, WI 53202

Phone: 414-220-9063
Fax: 414-220-9064
Store Hours:
Mo-Sa: 10-7
Su: 11-4
Upcoming Events
Faber-Castell Demo!
Date: 9/7/2014 - (one-day event)
Location: In Store: 1-3pm
Faber-Castell is conducting their annual Creative Academy Road Trip, and artist Don Colley is traveling all over the country to present and demo their professional Art & Graphic product line!
Participate in Don's demonstration and get inspired, as he shares his artwork and the countless ways there are to use Faber-Castell®'s Pitt Artist Pen®, Pitt Artist Pen® Big Brush, and Albrecht Durer® Watercolor Pencils. There will even be a few surprise giveaways at the event!
We hope you can join us! And, don't forget to tell all your friends and family to come too!
Note:
Prices and selection may vary between the internet and our retail stores, and all prices are subject to change without notice.
All of our locations are company owned and operated.