return to

wisconsin map
Blick in Milwaukee Farwell, WI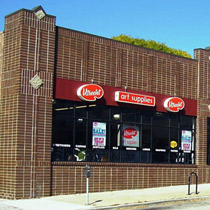 Address:
2219 North Farwell Avenue
Milwaukee, WI 53202

Phone: 414-220-9063
Fax: 414-220-9064
Store Hours:
Mo-Sa: 10-7
Su: 11-4
Upcoming Events
UPCOMING DEMOS!
Date: 9/15/2014 - 10/26/2014
Location: In Store
Mark you calendar for our upcoming in-store demos! See schedule below and contact the store for details.
Saturday 9/20: Watercolor Paints
Thursday 9/25: Madness Sale! A variety of demos including visiting artist glass painting with Pebeo (Plus, 30% Off Entire Purchase of $50 or more that day!)
Saturday 9/27 Canvas Stretching
Saturday 10/4: Pastels
Saturday 10/11: Mixed Media Techniques
Saturday 10/18: Lino Cutting
Saturday 10/25: Transfer Techniques
Note:
Prices and selection may vary between the internet and our retail stores, and all prices are subject to change without notice.
All of our locations are company owned and operated.