return to

wisconsin map
Utrecht in Milwaukee Broadway, WI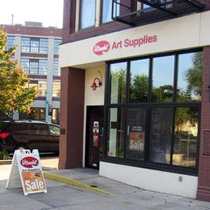 Address:
143 North Broadway
Milwaukee, WI 53202

Store Hours:
Mo-Th: 7:30-6
Fr: 7:30-4
Sa: 10-4
Su: Closed
Upcoming Events
Illustration Workshop by Colleen Hardy
Date: 9/21/2013 - (ongoing event)
Location: In-Store
Colleen Hardy has been illustrating in marker and colored pencil for the last 10 years. Her style is influenced by folk art, fairytales, the macabre, and art dating from the middle ages. The highly detailed images she creates have a strong emphasis on color and pattern.
In a demo from 1pm-2:30pm on Saturday, 9/21, Colleen will share techniques for using colored pencil and design markers together to accentuate richness and tonal value as well as technical tips for better control and economical use of the materials demonstrated. Please join us!
Instructor: Colleen Hardy
Session: Saturday, 9/21 1pm-2:30pm
MIAD Student and Alumni Art Sale
Date: 12/5/2013 - 12/7/2013
Location: In Store
Utrecht MIAD is proud to be the sponsor of the 2013 Milwaukee MIAD Student and Alumni Art Sale, happening 12/5-12/7! We are honored to work with this prestigious art institution and all of the creative individuals throughout its legacy. For more information about MIAD and their Student and Alumni Art Sale, check out the link provided below.
Note:
Prices and selection may vary between the internet and our retail stores, and all prices are subject to change without notice.
All of our locations are company owned and operated.