return to

washington map
Blick in Seattle , WA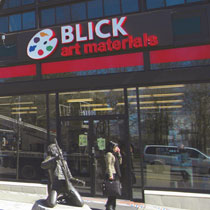 Address:
1600 Broadway
Seattle, WA 98122

Phone: (206) 324-0750
Fax: (206) 323-9274
Store Hours:
Mo-Sa: 9-8
Su: 11-7
We validate your first hour of parking with any $10 minimum purchase.
Parking is located on Nagle Place, just around the corner from our store.
Upcoming Events
Book Binding Demo
Date: 8/30/2014 - (one-day event)
Location: In Store
Don't miss our upcoming in-store demonstration of book binding with teacher Elizabeth Arzani! Stop in our store on SATURDAY, 8/30 from 1-3pm to learn to create your own books from scratch!
Note:
Prices and selection may vary between the internet and our retail stores, and all prices are subject to change without notice.
All of our locations are company owned and operated.