return to

washington map
Blick in Seattle , WA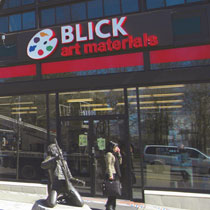 Address:
1600 Broadway
Seattle, WA 98122

Phone: (206) 324-0750
Fax: (206) 323-9274
Store Hours:
Mo-Sa: 9-8
Su: 11-7
We validate your first hour of parking with any $10 minimum purchase.
Parking is located on Nagle Place, just around the corner from our store.
Upcoming Events
Utrecht Products Now At Blick!
Date: 10/29/2013 - (ongoing event)
Location: In Store
Your favorite Utrecht products are at Blick! We now feature an expanded assortment of Utrecht products at this location, giving you the largest selection of quality art materials.
Collage Demo
Date: 8/2/2014 - (one-day event)
Location: In Store
Don't miss our Collage Demo on Saturday, 8/2, from 1-3pm! Join us as Seattle artist Patricia Ann Wilson demonstrates techniques needed for creating an awesome collage from a variety of materials! Please contact the store for details.
Note:
Prices and selection may vary between the internet and our retail stores, and all prices are subject to change without notice.
All of our locations are company owned and operated.