return to

washington map
Blick in Seattle , WA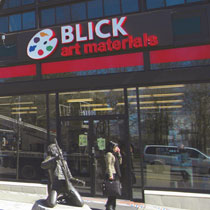 Address:
1600 Broadway Avenue
Seattle, WA 98122

Phone: (206) 324-0750
Fax: (206) 323-9274
Store Hours:
Mo-Sa: 9-8
Su: 11-7
We validate your first hour of parking with any $10 minimum purchase.
Parking is located on Nagle Place, just around the corner from our store.
Upcoming Events
Utrecht Products Now At Blick!
Date: 10/29/2013 - (ongoing event)
Location: In Store
Your favorite Utrecht products are at Blick! We now feature an expanded assortment of Utrecht products at this location, giving you the largest selection of quality art materials.
Gage Academy of Art 14th Annual Drawing Jam
Date: 12/7/2013 - (one-day event)
Location: Gage Academy of Art, 1501 10th Ave E, Seattle
Keep your calendars open this December for a really great event! Join the Gage Academy of Art on Saturday, 12/7, for their 14th Annual Drawing Jam. This 12 hour (wow!) celebration is for all art lovers. The school will open its professional studio space for a fun twist on an open drawing session. Art supplies, music, and food will all be provided! For more information about the Drawing Jam, ticket prices, and other details- please check out the link provided below.
Liquitex Demo!
Date: 12/13/2013 - (one-day event)
Location: In Store
Blick Seattle is having a special demonstration of Liquitex brand art materials! Come to this sponsored educational demonstration on Friday, 12/13, from 12-2pm, and learn all the wonderful ways Liquitex products can be used to create new techniques and innovative painterly effects. Included will be special information about new Liquitex Sprays and Markers! A special goody bag will be handed out to attendees, while supplies last!
Note:
Prices and selection may vary between the internet and our retail stores, and all prices are subject to change without notice.
All of our locations are company owned and operated.