return to

washington map
Blick in Seattle , WA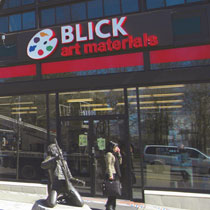 Address:
1600 Broadway Avenue
Seattle, WA 98122

Phone: (206) 324-0750
Fax: (206) 323-9274
Store Hours:
Mo-Sa: 9-8
Su: 11-7
We validate your first hour of parking with any $10 minimum purchase.
Parking is located on Nagle Place, just around the corner from our store.
Upcoming Events
Utrecht Products Now At Blick!
Date: 10/29/2013 - (ongoing event)
Location: In Store
Your favorite Utrecht products are at Blick! We now feature an expanded assortment of Utrecht products at this location, giving you the largest selection of quality art materials.
Blick's Paint Out - 2014
Date: 3/15/2014 - (one-day event)
Location: In-Store, 12pm - 7pm
Good things come in 7's! Seven art students. Seven Seattle colleges. Seven hours. But only 4 will win. It's Blick's "Paint Out - 2014"! We've invited one student from each of our 7 Seattle Colleges and Universities to compete in a one-day live painting event for the chance to win big and earn their school's bragging rights!
First, second, third and 'Staff Pick' winners will be announced at the conclusion of the Paint-Out. Swing by the store Sat, March 15th between 12pm - 7pm for exceptional savings, watch LIVE painting in-store, and VOTE on your favorite artists and/or painting! Call the store for more details!
Note:
Prices and selection may vary between the internet and our retail stores, and all prices are subject to change without notice.
All of our locations are company owned and operated.