return to

washington map
Blick in Seattle , WA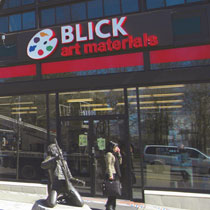 Address:
1600 Broadway Avenue
Seattle, WA 98122

Phone: (206) 324-0750
Fax: (206) 323-9274
Store Hours:
Mo-Sa: 9-8
Su: 11-7
We validate your first hour of parking with any $10 minimum purchase.
Parking is located on Nagle Place, just around the corner from our store.
Upcoming Events
Paper to Pop-Up
Date: 4/11/2013 - 5/28/2013
Location: In-Store
Blick is preparing for our April art show, "Pop-Up Gallery," and we have a call for art! We ask any interested participants to drop off your framed and ready-to-hang watercolor or works on paper. The deadline to submit artwork is March 20.
Everyone is invited to celebrate the opening night, April 11th, from 6-8pm. We look forward to seeing you and supporting local talent!
Drawing Jam
Date: 12/1/2013 - (one-day event)
Location: Gage Academy of Art
Blick Seattle is a proud sponsor of the 13th Annual Gage Academy of Art Drawing Jam! Stop by our booth on December 1 and win some prizes!
Note:
Prices and selection may vary between the internet and our retail stores, and all prices are subject to change without notice.
All of our locations are company owned and operated.