return to

washington map
Blick in Seattle , WA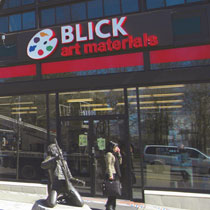 Address:
1600 Broadway
Seattle, WA 98122

Phone: (206) 324-0750
Fax: (206) 323-9274
Store Hours:
Mo-Sa: 9-8
Su: 11-7
We validate your first hour of parking with any $10 minimum purchase.
Parking is located on Nagle Place, just around the corner from our store.
Upcoming Events
Crayons For Kids Weekend
Date: 10/24/2014 - 10/26/2014
Location: In Store
Take part in Crayons For Kids! Simply purchase a box of crayons to donate to Seattle Children's Hospital now through 10/26, and Blick Art Materials will give you 30% off your most expensive item in your purchase 10/24-10/26.
Saturday 10/25 from 1-5pm, we will be having a Munny painting party with Seattle Artist Brandon Benson. Buy yourself a Munny and we will supply the product to paint it!
Sunday 10/26 from 1-4pm, Seattle Graffiti Artist Ksar will be in the store demonstrating her knockout air brush skills. There will be free face painting both days from 1-4pm as well. Come join the fun and give back at the same time! Contact the store for details.
Note:
Prices and selection may vary between the internet and our retail stores, and all prices are subject to change without notice.
All of our locations are company owned and operated.