return to

pennsylvania map
Blick in Philadelphia, PA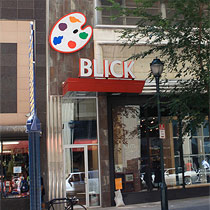 Address:
1330 Chestnut Street
Center City
Philadelphia, PA 19107

Phone: (215) 545-3214
Fax: (215) 545-3217
Store Hours:
Mo-Sa: 9-8
Su: 11-6
Located in the same building as West Elm and Lucky Strike Bowl.
Subway commuters should use City Hall, 13th Street, or 15th Street stations.

Upcoming Events
Utrecht Products Now At Blick!
Date: 10/29/2013 - (ongoing event)
Location: In Store
Your favorite Utrecht products are at Blick! We now feature an expanded assortment of Utrecht products at this location, giving you the largest selection of quality art materials.
A Plus Arts Exhibit
Date: 9/18/2014 - 10/3/2014
Location: Art Gallery at City Hall, Room 116
A Plus Arts Exhibit: Blick Art Materials Philadelphia is proud to support the A+ Arts Exhibition. We are honored to serve all of the local middle and high schools in their mission to promote creativity and expression throughout Philadelphia's youth. Join us for the opening reception on 9/18, from 4-5:30pm.
To learn more about this A Plus Arts exhibit, visit the link below.
Note:
Prices and selection may vary between the internet and our retail stores, and all prices are subject to change without notice.
All of our locations are company owned and operated.