return to

pennsylvania map
Blick in Allentown, PA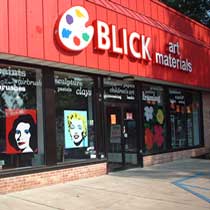 Address:
3152 Lehigh Street
South Mall
Allentown, PA 18103

Phone: (610) 791-7576
Fax: (610) 791-5210
Store Hours:
Mo-Sa: 10-8
Su: 12-5
Upcoming Events
Special Illustration Demo
Date: 7/26/2014 - (one-day event)
Location: In-store
Stop in on 7/26 from 1-3pm for our special illustration demo! Tara will be here to guide all ages through the creation of popular Manga figures called Chibis and more. Tara specializes in pencil and soft pastels, and is looking forward to sharing her talents with you! Stop by and join us for some fun. Please contact the store for details.
Note:
Prices and selection may vary between the internet and our retail stores, and all prices are subject to change without notice.
All of our locations are company owned and operated.