return to

pennsylvania map
Blick in Allentown, PA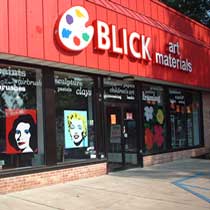 Address:
3152 Lehigh Street
South Mall
Allentown, PA 18103

Phone: (610) 791-7576
Fax: (610) 791-5210
Store Hours:
Mo-Sa: 10-8
Su: 12-5
Upcoming Events
Lehigh Valley Tattoo Convention
Date: 3/21/2014 - 3/23/2014
Location: Holiday Inn Conference Center - Lehigh Valley
Mark your calendars for the Skindustry Invitational March 21-23 - Lehigh Valley's only Tattoo Convention! Come check out a variety of events at the Holiday Inn Conference Center in Fogelsville, including vendor displays, competitions, seminars and on-site tattooing. BLICK will be selling products, providing free giveaways and handing out valuable store coupons! Contact us for more details. We'll see you there!
Note:
Prices and selection may vary between the internet and our retail stores, and all prices are subject to change without notice.
All of our locations are company owned and operated.