return to

oregon map
Blick in Portland, OR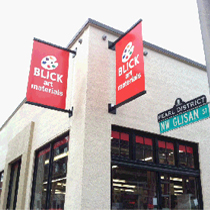 Address:
1115 NW Glisan St.
Portland, OR 97209

Store Hours:
Mo-Sa: 9-8
Su: 11-6
Upcoming Events
Utrecht Products Now At Blick!
Date: 10/29/2013 - (ongoing event)
Location: In Store
Your favorite Utrecht products are at Blick! We now feature an expanded assortment of Utrecht products at this location, giving you the largest selection of quality art materials.
Blick & Utrecht Paint Demos!
Date: 7/11/2014 - 8/3/2014
Location: In Store
Create more this summer with Blick and Utrecht Paints! Stop by each Friday through 8/3, for outdoor community painting demos where you can test our paints and discover why we are leaders in the industry! Contact the store for more details.
Note:
Prices and selection may vary between the internet and our retail stores, and all prices are subject to change without notice.
All of our locations are company owned and operated.