return to

oregon map
Blick in Portland, OR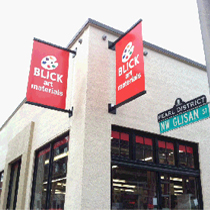 Address:
1115 NW Glisan St.
Portland, OR 97209

Store Hours:
Mo-Sa: 9-8
Su: 11-6
Upcoming Events
Art in the Pearl
Date: 8/31/2013 - 9/2/2031
Location: Pearl District - North Park Blocks
This year Art in the Pearl Fine Art & Crafts Festival will celebrate its 17th anniversary! We hope you join us in showing support for this community festival!
A national art publication ranked Art in the Pearl among the top 10 fine arts events in the nation in 2011. The event is produced by local artists in a spirit of partnership with the Portland community.
The festival is located in Portland's Pearl District North Park Blocks on NW 8th Ave. between W. Burnside Ave. and NW Glisan St. We look forward to seeing you!
Utrecht Products Now At Blick!
Date: 10/29/2013 - (ongoing event)
Location: In Store
Your favorite Utrecht products are at Blick! We now feature an expanded assortment of Utrecht products at this location, giving you the largest selection of quality art materials.
Note:
Prices and selection may vary between the internet and our retail stores, and all prices are subject to change without notice.
All of our locations are company owned and operated.