return to

oregon map
Blick in Portland, OR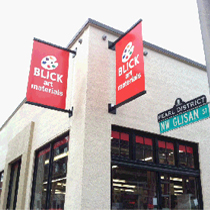 Address:
1115 NW Glisan St.
Portland, OR 97209

Store Hours:
Mo-Sa: 9-8
Su: 11-6
Upcoming Events
Wild Art Fest Painting Project
Date: 9/1/2014 - 11/2/2014
Location: In Store
Blick is a proud sponsor of the 6x6 Wild Art Painting Project! The Wild Arts Festival celebrates nature in the work of regionally and nationally known artists and writers. You can get involved as one of those artists! Stop by our store to learn how. For more details, please visit the link below!
Note:
Prices and selection may vary between the internet and our retail stores, and all prices are subject to change without notice.
All of our locations are company owned and operated.