return to

newyork map
Blick in New York City Bond St, NY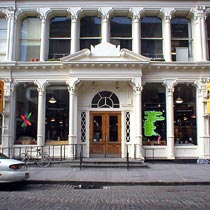 Address:
1-5 Bond Street
New York City, NY 10012

Phone: (212) 533-2444
Fax: (212) 677-6955
Store Hours:
Mo-Fr: 9-8
Sa: 9-7
Su: 11-6
Upcoming Events
Off The Wall Graffiti Tour
Date: 12/15/2013 - (one-day event)
Location: In Store
Blick NYC is proud to support the creative efforts of the participating artists during the Off The Wall Graffiti Tour as it makes its way across the country! Enjoy a coupon for 15% off your entire purchase when you shop at our store. Coupon valid for one day only, Sunday, 12/15.
Note:
Prices and selection may vary between the internet and our retail stores, and all prices are subject to change without notice.
All of our locations are company owned and operated.