return to

newyork map
Utrecht in New York City 13th St, NY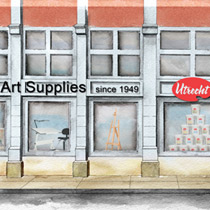 Address:
21 East 13th Street
New York City, NY 10003

Store Hours:
Mo-Fr: 9-8
Sa: 9-7
Su: 11-6
Upcoming Events
Creative Soultions
Date: 12/8/2013 - (one-day event)
Location: In Store
We are excited to host our first Creative Solutions Event on Sunday, December 8, 2013! Students should bring projects that need a little extra help to Utrecht's 13th Street location for a consultation with our knowledgeable staff. Staff members will tailor techniques and product suggestions to match each student's needs. Guests will enjoy a one-night-only 15% off discount on non-sale items. The first 25 participants to make a purchase of $100.00+ will receive a complementary gift.
Note:
Prices and selection may vary between the internet and our retail stores, and all prices are subject to change without notice.
All of our locations are company owned and operated.