return to

nevada map
Blick in Las Vegas, NV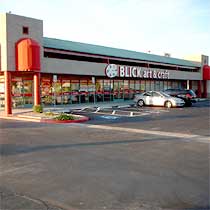 Address:
290 South Decatur Blvd
Las Vegas, NV 89107

Store Hours:
Mo-Sa: 9-8
Su: 11-6
Upcoming Events
Artist Trading Card Swap
Date: 7/14/2011 - (ongoing event)
Location: In-Store
Join us for a community artist trading card swap from 4p-6p on Saturday, July 23, 2011! Artist trading cards are 2.5x3.5 pieces of art that are traded among other artist. Please join us; it'll be a great way to meet other artists in the community!
Blick Holiday Craft Fair
Date: 12/15/2013 - (one-day event)
Location: In Store
Join us for our first ever Blick Holiday Craft Fair! On Sunday, 12/15 from 11am-4pm, local artists will be out to help you find that perfect homemade holiday gift. Stop by and save 15% off your entire transaction of non-sale in stock merchandise in store only!
Note:
Prices and selection may vary between the internet and our retail stores, and all prices are subject to change without notice.
All of our locations are company owned and operated.