return to

nebraska map
Blick in Omaha, NE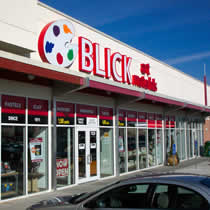 Address:
7829 Dodge Street
Omaha, NE 68114

Phone: (402) 397-6077
Fax: (402) 390-2421
Store Hours:
Mo-Sa: 9-8
Su: 11-5
Upcoming Events
FREE Airbrush Demo!
Date: 7/26/2014 - (one-day event)
Location: In Store: 1-3pm
Stop in to our store this SATURDAY, 7/26, from 1-3pm for an amazing (and FREE) airbrush demo! Please contact the store for details. We hope to see you there!
Note:
Prices and selection may vary between the internet and our retail stores, and all prices are subject to change without notice.
All of our locations are company owned and operated.