return to

nebraska map
Blick in Omaha, NE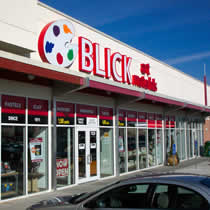 Address:
7829 Dodge Street
Omaha, NE 68114

Phone: (402) 397-6077
Fax: (402) 390-2421
Store Hours:
Mo-Sa: 9-8
Su: 11-5
Upcoming Events
Spray Paint Demo
Date: 10/4/2014 - (one-day event)
Location: In store
Join us in our store on SATURDAY, 10/4, from 1-3pm for a special Montana and Liquitex spray paint demo! Artist Gerard PeFung will be here demonstrating his passion for creating with spray paint and paint markers. We hope you can join us! Contact the store for more details.
Note:
Prices and selection may vary between the internet and our retail stores, and all prices are subject to change without notice.
All of our locations are company owned and operated.