return to

missouri map
Blick in St. Louis, MO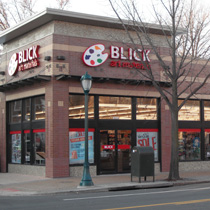 Address:
6300 Delmar Blvd.
St Louis, MO 63130

Phone: (314) 862-6980
Fax: (314) 862-6982
Store Hours:
Mo-Fr: 9-8
Sa: 9-7
Su: 12-5
Upcoming Events
Design Center Grand Opening!
Date: 10/10/2013 - (ongoing event)
Location: In Store
Design Center Coming Soon! Blick Art Materials in St. Louis will provide a NEW service for its wonderful customers. We're excited to announce the addition of a Design Center at this location for all your custom framing and printing needs! Stay tuned for Grand Opening details. Don't miss out on exclusive deals and NEW LOWER PRICES!
Fantasty-Themed Drawing Event
Date: 8/8/2014 - (one-day event)
Location: In Store
Bring out your inner fanboy or fangirl in this Fantasy-Themed Life Drawing event! Sponsored by Blick Art Materials and Star Clipper Comics, come draw from 5-8pm on 8/8 at our store! No charge for admission, but seating is limited! Special raffles throughout the evening. Contact the store with questions. RSVP here: http://www.eventbrite.com/e/fantasy-sketch-night-at-blick-st-louis-tickets-12304678625
Note:
Prices and selection may vary between the internet and our retail stores, and all prices are subject to change without notice.
All of our locations are company owned and operated.