return to

missouri map
Blick in Kansas City, MO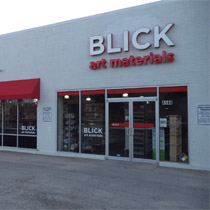 Address:
4144 Main Street
Kansas City, MO 64111

Phone: 816-531-8410
Fax: 816-531-8411
Store Hours:
Mo-Th: 10-7
Fr-Sa: 10-6
Su: 12-5
Upcoming Events
Blick Kansas City's 15th Anniversary Celebration
Date: 10/25/2014 - (one-day event)
Location: In Store
Celebrate our Kansas City store's 15th Anniversary!
Mark your calendar for 10/25 - enjoy special discounts and demonstrations throughout the day, plus spin the Prize Wheel for freebies and $5 or $15 Store Cards! We are excited to have Kansas City Graffiti writer "Gear" working on a canvas showcasing the amazing things that can happen with Montana Gold Spray Paint. For more info, visit: http://gearatt.weebly.com/ See below for our full schedule and contact the store for details.
SCHEDULE OF EVENTS:
Graffiti Writer, Gear: 12-5pm
Colorfield Field Sketchbook Make and Take Demo: 11-2pm
Suminigashi Paper Marbling: 2-5pm
Note:
Prices and selection may vary between the internet and our retail stores, and all prices are subject to change without notice.
All of our locations are company owned and operated.