return to

minnesota map
Blick in Roseville, MN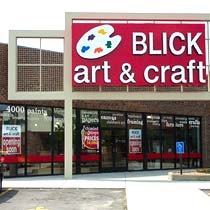 Address:
Fairdale Shoppes
2389 Fairview Avenue
Roseville, MN 55113

Phone: (651) 636-2818
Fax: (651) 846-6614
Store Hours:
Mo-Sa: 9:30-9
Su: 11-6
Upcoming Events
In-store Demos!
Date: 8/2/2014 - 8/30/2014
Location: In Store: 2-4pm
Be sure to stop in for these upcoming demos in our store, from 2-4pm!
Aug 2 - Experience our selection of printmaking and drawing papers with Kristy! See how different media works on these multi-purpose papers.
Aug 9- Gelli Plate Printing Party! Come try out the Gelli printing plate with water based inks, and leave with a one-of-a-kind card. Kid friendly!
Aug 16 - Photo Transfer – Learn two ways to photo transfer images! Bring in your own printout or play with samples in store.
Aug 23 - Pan Pastels – Come in and try out this popular medium. Pan pastels have less mess and a variety of application tools.
Aug 30 - Acrylic Web Jewelry – Make unique jewelry from acrylic paints and craft cord. Kid friendly!
Note:
Prices and selection may vary between the internet and our retail stores, and all prices are subject to change without notice.
All of our locations are company owned and operated.