return to

minnesota map
Blick in Roseville, MN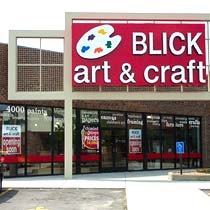 Address:
Fairdale Shoppes
2389 Fairview Avenue
Roseville, MN 55113

Phone: (651) 636-2818
Fax: (651) 846-6614
Store Hours:
Mo-Sa: 9:30-9
Su: 11-6
Upcoming Events
OCTOBER DEMOS!
Date: 10/4/2014 - 10/25/2014
Location: In Store
Don't miss our upcoming demos - each from 2-4pm. Check out the schedule below and contact the store for details!
October 4th: "Creating Textures in Drawing" Reid will demonstrate techniques to create texture and shading as well as experimenting with exciting drawing grounds!
October 11th: "Felt Creatures" Erin will teach you basic felting techniques and you'll take home your very own felting friend!
October 25th: Create festive sugar skull lanterns from Yupo paper with Erin.
Halloween Extravaganza
Date: 10/23/2014 - (one-day event)
Location: In Store
Join us for our one day Halloween Extravaganza event!
We will be having our Halloween art show reception that evening from 5-7pm with the winners being announced at 6pm. Don't miss our Halloween themed demos throughout the day:
Shrunken Head demo from 12-2pm
Haunted photo transfer on a tote bag from 4:30-6:30pm.
Customers will be able to a paint a square on a canvas and spin the prize wheel from 10am-8pm. AND, it just wouldn't be a Halloween party without costumes!...If you come dressed in costume, you will be able to enter into a raffle for a chance to win a $50 store coupon card and $50 worth of art materials!
CALL FOR ART - Halloween Art Show!
Date: 10/23/2014 - 11/16/2014
Location: In Store
CALL FOR ART!
*** We have extended the submission due date for our Halloween Art Show! All submissions are due to the store by 10/15 at 8pm. Artwork should be Halloween-themed, must not exceed 16", should be hang read and be of tasteful nature.
The show will hang from 10/23 through 11/16, with the Halloween Art Show opening reception on 10/23. We hope you join us for this spooky show!
Contact the store for more details.
Note:
Prices and selection may vary between the internet and our retail stores, and all prices are subject to change without notice.
All of our locations are company owned and operated.