return to

minnesota map
Blick in Roseville, MN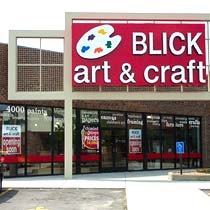 Address:
Fairdale Shoppes
2389 Fairview Avenue
Roseville, MN 55113

Phone: (651) 636-2818
Fax: (651) 846-6614
Store Hours:
Mo-Sa: 9:30-9
Su: 11-6
Upcoming Events
CALL FOR ART - Halloween Art Show!
Date: 9/15/2014 - 10/7/2014
Location: In Store
CALL FOR ART!
Be a part of our Halloween art show! You have until October 7th to submit your creepy, halloween-themed artwork. All mediums are welcome. Artwork must not exceed 16", must be ready to hang and be of tasteful nature. Submit your art to: rosevilleblickartmaterialsshow@gmail.com. Winners will win Blick store cards. More details on the show to come. We hope you join us for this spooky show!
Contact the store for more details.
OCTOBER DEMOS!
Date: 10/4/2014 - 10/25/2014
Location: In Store
Don't miss our upcoming demos - each from 2-4pm. Check out the schedule below and contact the store for details!
October 4th: "Creating Textures in Drawing" Reid will demonstrate techniques to create texture and shading as well as experimenting with exciting drawing grounds!
October 11th: "Felt Creatures" Erin will teach you basic felting techniques and you'll take home your very own felting friend!
October 25th: Create festive sugar skull lanterns from Yupo paper with Erin.
Note:
Prices and selection may vary between the internet and our retail stores, and all prices are subject to change without notice.
All of our locations are company owned and operated.