return to

minnesota map
Blick in Roseville, MN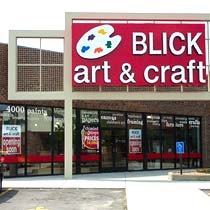 Address:
Fairdale Shoppes
2389 Fairview Avenue
Roseville, MN 55113

Phone: (651) 636-2818
Fax: (651) 846-6614
Store Hours:
Mo-Sa: 9:30-9
Su: 11-6
Upcoming Events
QoR Modern Watercolors Demo
Date: 7/23/2014 - (one-day event)
Location: In Store: 1-3pm
Join us in our store on WEDNESDAY, 7/23 from 1-3pm for an exclusive demo featuring Golden's new, revolutionary paint line, QoR Modern Watercolors! Be sure to RSVP AT THE LINK BELOW!
Art Sampler Demo Series
Date: 7/30/2014 - 8/6/2014
Location: In Store
Join Blick Roseville for our special Art Sampler demo series this Summer! The Art Sampler series was designed by Susan Shields to help you learn how to draw and match color like a true artist. This two-part drawing class will provide a general introduction or simple refresher to the basics of how to accurately draw what you see.
Session I: Wednesday, July 30th - 6-8pm
Session II: Wednesday, August 6th 6-8pm
RSVP required - seating is limited. Sign up here today:
In-store Demos!
Date: 8/2/2014 - 8/30/2014
Location: In Store: 2-4pm
Be sure to stop in for these upcoming demos in our store, from 2-4pm!
Aug 2 - Experience our selection of printmaking and drawing papers with Kristy! See how different media works on these multi-purpose papers.
Aug 9- Gelli Plate Printing Party! Come try out the Gelli printing plate with water based inks, and leave with a one-of-a-kind card. Kid friendly!
Aug 16 - Photo Transfer – Learn two ways to photo transfer images! Bring in your own printout or play with samples in store.
Aug 23 - Pan Pastels – Come in and try out this popular medium. Pan pastels have less mess and a variety of application tools.
Aug 30 - Acrylic Web Jewelry – Make unique jewelry from acrylic paints and craft cord. Kid friendly!
Note:
Prices and selection may vary between the internet and our retail stores, and all prices are subject to change without notice.
All of our locations are company owned and operated.