return to

minnesota map
Blick in Edina , MN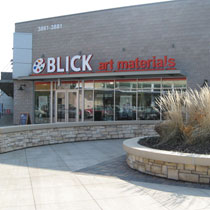 Address:
3867 Gallagher Drive
Centennial Shops
Edina, MN 55435

Phone: (952) 831-6061
Fax: (952) 835-1980
Store Hours:
Mo-Fr: 10-8
Sa: 10-7
Su: 11-6
Upcoming Events
RENDR Demo by Crescent!
Date: 3/14/2014 - (one-day event)
Location: In-Store, 1-4 PM
Blick Art Materials is proud to present a demonstration of RENDR no-bleed paper by Crescent Artist Lynn Tsan from 1-4 PM! Come see this versatile, one-of-a-kind paper in action, as we work with all forms of dry and wet media! Participants will receive an exclusive coupon good for in-store savings! Call store for more details - we'll see you there!
Note:
Prices and selection may vary between the internet and our retail stores, and all prices are subject to change without notice.
All of our locations are company owned and operated.