return to

minnesota map
Blick in Edina , MN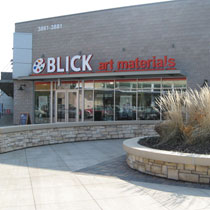 Address:
3867 Gallagher Drive
Centennial Shops
Edina, MN 55435

Phone: (952) 831-6061
Fax: (952) 835-1980
Store Hours:
Mo-Fr: 10-8
Sa: 10-7
Su: 11-6
Upcoming Events
October Demos!
Date: 10/4/2014 - 10/25/2014
Location: In Store
Check out our schedule of upcoming in-store October demos!
Saturday, 10/4 (2-4pm): Professional Makers with Talia
This will be a comprehensive professional marker demonstration discussing brands, brand differences, technique, and pro marker surfaces. There will also be a focus on Copic, their different lines, and the versatility of them.
Saturday, 10/11 (2-4pm): Gelatos with Ari
Faber-Castell has formulated a new line of pigment sticks called Gelatos. This demonstration will discuss the simplicity, the different uses, and techniques of this new soft, creamy, acid-free medium.
Saturday, 10/18 (2-4pm): Origami Frogs with Hanna
Join Hanna folding origami frogs. This demo will be fun and easy for both the young and the old while discussing different paper types and significance of using a "bone folder".
Saturday, 10/25 (2-4pm): Super Suminagashi with Danae
Suminagashi is a paper marbling product that Danae will be demonstrating. Paper marbling is an ancient method of aqueous surface design creating patterns often resembling a marbling effect.
Note:
Prices and selection may vary between the internet and our retail stores, and all prices are subject to change without notice.
All of our locations are company owned and operated.