return to

massachusetts map
Blick in Boston Landmark Center, MA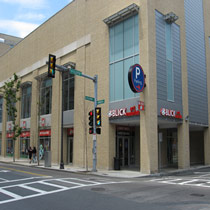 Address:
401 Park Drive
Landmark Center - Fenway
Boston, MA 02215

Phone: (617) 247-3322
Fax: (617) 249-0737
Store Hours:
Mo-Sa: 9-9
Su: 11-6
First 10 minutes of deck parking is free with validation in the store.
Upcoming Events
Employee Art Show
Date: 6/25/2014 - 7/26/2014
Location: In Store
Don't miss the Employee Art Show at our store 6/25-7/26! Come see all the wicked amazing art that our staff creates! Be sure to come for the special celebration on Thursday, 7/10 from 6:30pm-8:30pm. We hope to see you there! Contact the store for more details.
Small Plein Air Landscapes Exhibit
Date: 8/1/2014 - 9/7/2014
Location: In Store
Come explore our Juried Exhibition of Small Plein Air Landscapes. The opening reception will be 8/7 from 6-8pm. Please join us to view these fine works of art and meet the artists! The show from 8/1 to 9/7. Contact the store for details.
Note:
Prices and selection may vary between the internet and our retail stores, and all prices are subject to change without notice.
All of our locations are company owned and operated.