return to

massachusetts map
Blick in Boston Landmark Center, MA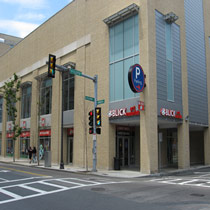 Address:
401 Park Drive
Landmark Center - Fenway
Boston, MA 02215

Phone: (617) 247-3322
Fax: (617) 249-0737
Store Hours:
Mo-Sa: 9-9
Su: 11-6
First 10 minutes of deck parking is free with validation in the store.
Upcoming Events
WILD WEDNESDAY!
Date: 4/23/2014 - (one-day event)
Location: In Store
Join us for WILD WEDNESDAY in stores on 4/23! ONE DAY ONLY: Stop in for amazing sales and spin the PRIZE WHEEL! And don't miss Mural Mash-up from 1-6pm where you can try Utrecht paints!
Fresh Paint 2014!
Date: 4/27/2014 - 5/10/2014
Location: 158 Newbury Street
Check out Fresh Paint 2014! On 4/27 about 60 artists will take to the streets of Boston to work on pieces for the silent auction to be held at the Copley Society of Art. Come see the Fresh Paint pieces on display at 158 Newbury Street from 4/30-5/10! We're a proud supporter for the Copley Society of Art and all Boston artists!
Note:
Prices and selection may vary between the internet and our retail stores, and all prices are subject to change without notice.
All of our locations are company owned and operated.