return to

indiana map
Blick in Evansville, IN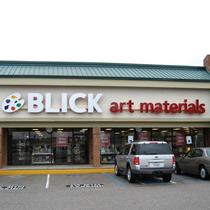 Address:
Eastland Shoppes Plaza
1364 N. Green River Road
Evansville, IN 47715

Phone: (812) 476-9551
Fax: (812) 476-9697
Store Hours:
Mo-Fr: 10-8
Sa: 10-6
Su: 12-5
Blick's Evanston store operates on Central Standard Time.
Upcoming Events
A Fresh Perspective: Juried Art Exhibit
Date: 4/16/2013 - 5/31/2013
Location: Henderson County Public Library - Rotunda Gallery
"A Fresh Perspective" is the 21st Annual Juried Art Exhibit of the Henderson Society of Art. Please join us for the opening reception which will be held April 16 at 6:30. We look forward to seeing you!
The exhibit is located in the Rotunda Gallery of the Henderson County Public Library and will be on display through May 31, 2013.
Note:
Prices and selection may vary between the internet and our retail stores, and all prices are subject to change without notice.
All of our locations are company owned and operated.