return to

illinois map
Blick in Wheaton, IL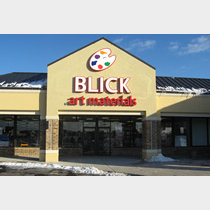 Address:
79 Danada Square E Shopping Center
Wheaton, IL 60189

Phone: (630) 653-0569
Fax: (630) 653-0765
Store Hours:
Mo-Fr: 9-9
Sa: 9-6
Su: 11-5
Blick Art Materials in Wheaton, IL; the store is located on the NE corner of Butterfield and Naperville Road.
Upcoming Events
First Annual Winter 9" x 12" Show
Date: 2/6/2014 - 3/8/2014
Location: In Store
Join us for our first annual Winter 9"x12" art show, February 6th thru March 8th. We will have an opening reception on Thursday, February 6th from 4pm to 7pm. To participate in the show, create a piece of artwork no larger than 9"x12" in size. The artwork must be family appropriate and must be ready to hang. All participants must fill out an artwork waiver form. All artwork must be delivered by no later than February 4th, 2014.
Illinois High School Regional Art Competition Reception
Date: 3/12/2014 - (one-day event)
Location: In Store
Come to our Evanston, Wheaton, or Schaumburg stores on Friday, March 12th from 5-8pm for a very special mixer and reception, celebrating select talent from the Illinois High School Regional Art Competition! Hors D'ouevres will be served. Special art materials goody bag for the first 50 student customers at each location to mention this post!
Note:
Prices and selection may vary between the internet and our retail stores, and all prices are subject to change without notice.
All of our locations are company owned and operated.