return to

illinois map
Blick in Wheaton, IL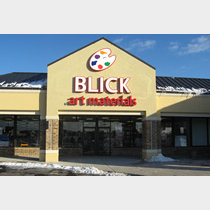 Address:
79 Danada Square E Shopping Center
Wheaton, IL 60189

Phone: (630) 653-0569
Fax: (630) 653-0765
Store Hours:
Mo-Fr: 9-9
Sa: 9-6
Su: 11-5
Blick Art Materials in Wheaton, IL; the store is located on the NE corner of Butterfield and Naperville Road.
Upcoming Events
Golden Acrylics Demo
Date: 10/26/2014 - (one-day event)
Location: In store: 1-3pm
On Sunday, 10/26 from 1-3pm, join us for a "Gels, Pastes, Mediums and More" workshop with Maureen Gasek, Certified Golden acrylics artist. The workshop is designed to dig into the world of Mediums, Gels, Pastes, Aggregates (grits) and more. Students will take home all work and samples created in this workshop. All materials included in workshop fee. Workshop fee is $45.00. All levels welcome. Contact the store for details!
Note:
Prices and selection may vary between the internet and our retail stores, and all prices are subject to change without notice.
All of our locations are company owned and operated.