return to

illinois map
Blick in Schaumburg, IL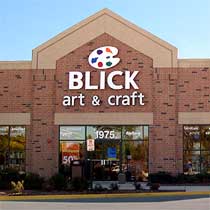 Address:
1975 E. Golf Road
Schaumburg, IL 60173

Phone: (847) 619-1115
Fax: (847) 619-0013
Store Hours:
Mo-Fr: 9-8
Sa: 9-7
Su: 11-6
Blick Art & Craft is located on Golf Road, directly northeast of Woodfield Mall.
We are in the same building as DXL, just east of Olive Garden.
Upcoming Events
Oil Painting without Drawing Workshop
Date: 4/6/2013 - 4/6/2014
Location: In-Store
You have the opportunity to learn form nationally-acclaimed artist Dominic Vignola! Visit the store on Saturdays while Dominic demonstrates his techniques in tonal impressionism. Learn how to paint in oils using a unique, non-linear (no drawing) approach.
This workshop is for people 18 years+.
Day: Saturdays
Time: 10am - 4pm
Instructor: Dominic Vignola
Phone: 708-524-3380
Fee: $240 (supplies not included)
Link: www.oilpaintingwithoutdrawing.com
Note:
Prices and selection may vary between the internet and our retail stores, and all prices are subject to change without notice.
All of our locations are company owned and operated.