return to

illinois map
Blick in Schaumburg, IL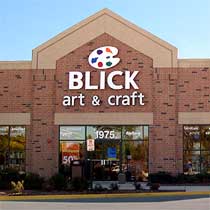 Address:
1975 E. Golf Road
Schaumburg, IL 60173

Phone: (847) 619-1115
Fax: (847) 619-0013
Store Hours:
Mo-Fr: 9-8
Sa: 9-7
Su: 11-6
Blick Art & Craft is located on Golf Road, directly northeast of Woodfield Mall.
We are in the same building as DXL, just east of Olive Garden.
Upcoming Events
Oil Painting without Drawing Workshop
Date: 4/6/2013 - 4/6/2014
Location: In-Store
You have the opportunity to learn form nationally-acclaimed artist Dominic Vignola! Visit the store on Saturdays while Dominic demonstrates his techniques in tonal impressionism. Learn how to paint in oils using a unique, non-linear (no drawing) approach.
This workshop is for people 18 years+.
Day: Saturdays
Time: 10am - 4pm
Instructor: Dominic Vignola
Phone: 708-524-3380
Fee: $240 (supplies not included)
Link: www.oilpaintingwithoutdrawing.com
In-Store Demos!
Date: 5/4/2013 - 5/26/2013
Location: In-Store
Please join us throughout the month for some new in-store demos! Visit us and learn something new or brush up on something rusty!
Here's a schedule:
Saturday, May 4: The Art of Zentangle with Andrew!
Zentangle has quickly become one of the hottest new trends in the art world! Used for meditation or just for fun Zentangle is something anyone with the most basic drawing skills can do! Andrew will be demonstrating these techniques from 3:00pm - 5:00pm.
Saturday, May 11: Canvas stretching and priming with Alex!
Missed the last canvas stretching demo? FEAR NOT! Alex will once again be showing you how to stretch canvas yourself, but he will also be going over the different types of gesso you can use on the canvas you just stretched! He will be demoing from 3:00pm - 5:00pm.
Saturday, May 18: Hands-On Airbrushing with Iwata with Sue Freud!
Are you usure of how to start up with air brushing and have alsways wanted to try it? Or have you been painting for awhile and you have technical questions on how your air brush works? Join us for a FREE hands-on demo with Sue from Iwata Air Brush, as she goes over the basics and finer details of how to use Iwata air brushes and compressors. Sue will be here from 2:00pm - 5:00pm.
Sunday, May 26: Rendr and Marker boards with Lynn Tsan!
Lynn will be here from Crescent Card Board to show you the new Rendr papers and Marker Boards that are available for artists to use to expand their art experience! Lynn will be here from 3:00pm - 5:00pm.
Note:
Prices and selection may vary between the internet and our retail stores, and all prices are subject to change without notice.
All of our locations are company owned and operated.