return to

illinois map
Blick in Schaumburg, IL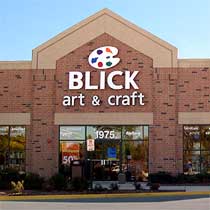 Address:
1975 E. Golf Road
Schaumburg, IL 60173

Phone: (847) 619-1115
Fax: (847) 619-0013
Store Hours:
Mo-Fr: 9-8
Sa: 9-7
Su: 11-6
Blick Art & Craft is located on Golf Road, directly northeast of Woodfield Mall.
We are in the same building as DXL, just east of Olive Garden.
Upcoming Events
Oil Painting Without Drawing w/ Dominic Vignola
Date: 9/6/2014 - 12/31/2014
Location: In Store
Nationally acclaimed artist Dominic Vignola demonstrates his techniques in tonal impressionism. Learn how to paint in oils using a unique non-linear (no drawing) approach. Fee: $240 for 4 weeks (materials not included) - Classes are every Saturday from 10am-4pm (18 year olds & up only) Contact the store for details.
FREE November Demos!
Date: 11/22/2014 - 11/29/2014
Location: In Store
Don't miss these FREE November in-store demos! Check out the schedule below and contact the store for details.
SAT 11/22, 1-3pm - Hand Tofurkey Contest (A healthy alternative!) Hand Turkeys...everyone loves 'em...and I bet you make the best one around! Well, we decided to go with the vegetarian option this holiday season. So, stop in to create your best Hand TOFURKEY. The most creative tofurkey wins a Blick eco-tote filled with sweet Blick merch!
SAT 11/29, 1-3pm - Stop in and use glass painting to make very own decorative votive!
Note:
Prices and selection may vary between the internet and our retail stores, and all prices are subject to change without notice.
All of our locations are company owned and operated.