return to

illinois map
Blick in Schaumburg, IL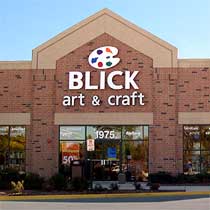 Address:
1975 E. Golf Road
Schaumburg, IL 60173

Phone: (847) 619-1115
Fax: (847) 619-0013
Store Hours:
Mo-Fr: 9-8
Sa: 9-7
Su: 11-6
Blick Art & Craft is located on Golf Road, directly northeast of Woodfield Mall.
We are in the same building as DXL, just east of Olive Garden.
Upcoming Events
Oil Painting without Drawing Workshop
Date: 4/6/2013 - 4/6/2014
Location: In-Store
You have the opportunity to learn form nationally-acclaimed artist Dominic Vignola! Visit the store on Saturdays while Dominic demonstrates his techniques in tonal impressionism. Learn how to paint in oils using a unique, non-linear (no drawing) approach.
This workshop is for people 18 years+.
Day: Saturdays
Time: 10am - 4pm
Instructor: Dominic Vignola
Phone: 708-524-3380
Fee: $240 (supplies not included)
Link: www.oilpaintingwithoutdrawing.com
Illinois High School Regional Art Competition Reception
Date: 3/12/2014 - (one-day event)
Location: In Store
Come to our Evanston, Wheaton, or Schaumburg stores on Friday, March 12th from 5-8 pm for a very special mixer and reception, celebrating select talent from the Illinois High School Regional Art Competition! Hors D'ouevres will be served. Special art materials goody bag for the first 50 student customers at each location to mention this post!
Canvas Stretching & Priming Workshop
Date: 3/15/2014 - (one-day event)
Location: In Store
Interested in stretching your very own canvas, but have no idea how to get started? Alex will be available for 3 hours - to teach you everything you'll need to know to get your masterpiece started. Stop by from 2-5 PM!
Airbrush Demo
Date: 3/22/2014 - (one-day event)
Location: In Store
Join us for a special demo on Airbrushing from 2-5PM! Sam will offer a special FREE and hands-on demo covering the basics of airbrushing. Bring your questions, and feel free to try the supplies out for yourself. Feel free to stop by & pick up a few ideas!
Derwent Inktense Demo
Date: 3/29/2014 - (one-day event)
Location: In Store
Water-soluble + Ink based + Colorful = Fun! Hang out with Alexis from 2-5 PM and learn all about these unique colored pencils that allow for all sorts of mixed media creativity!
Note:
Prices and selection may vary between the internet and our retail stores, and all prices are subject to change without notice.
All of our locations are company owned and operated.