return to

illinois map
Blick in Lincoln Park, IL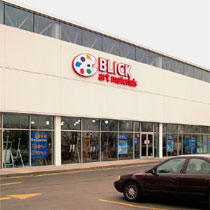 Address:
1574 N Kingsbury Street
Chicago, IL 60642

Phone: (312) 573-0110
Fax: (312) 573-1017
Store Hours:
Mo-Fr: 9-9
Sa: 10-7
Su: 11-6
Free parking is located directly in front of the store.

Upcoming Events
FREE In-store Demos
Date: 7/12/2014 - 8/2/2014
Location: In Store: 1-3pm
Check out our upcoming FREE in-store demos! All from 1-3pm. Contact the store for more details!
Saturday, 7/12: Comic Inking and Coloring w/ John Bailey: Learn the process of inking a comic book page. John will use a variety of pens, inks, and paints to demonstrate this fascinating process!
Saturday, 7/19: Printmaking Process w/ Caitlin: Explore the process of preparing a screen or block for printing and use different inks for paper or fabric prints that you can take home with you!
Saturday, 8/2: Character Design w/ Alejandro: Experience the process of character design. Alejandro will show us how to use a variety of materials to create his fun and playful illustrations. Fun for all ages!
ART DEPTH SHOW
Date: 8/2/2014 - (one-day event)
Location: 1204 N. Clybourn, Chicago, IL
Blick is proud to support Art Depth! Come on out to their event called "Sustainable Vows" on Saturday, 8/2, from 11am-4pm at CITY FARM - 1204 N. Clybourn. For more information, visit: artdepth.org.
Note:
Prices and selection may vary between the internet and our retail stores, and all prices are subject to change without notice.
All of our locations are company owned and operated.