return to

illinois map
Blick in Lincoln Park, IL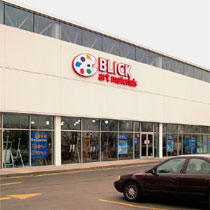 Address:
1574 N Kingsbury Street
Chicago, IL 60642

Phone: (312) 573-0110
Fax: (312) 573-1017
Store Hours:
Mo-Fr: 9-9
Sa: 10-7
Su: 11-6
Free parking is located directly in front of the store.

Upcoming Events
Holiday Demo Series
Date: 11/8/2013 - 12/20/2013
Location: In Store
Join us for FREE and festive in-store demos from 12-3pm, just in time for the Holidays.
Friday, 11/8: Holiday Greeting Cards- Create your own unique and festive cards to send out this holiday season!
Friday, 11/29: DecorateYour Own Mini-Canvas Ornaments- Join us in this creative ornamnet making demo.
Friday, 12/6: Reusable Gift Wrap- A new spin on a holiday staple! Come in and decorate your own gift wrap.
Friday, 12/20: Holiday Home Decor- Just in time for the Holidays, this demo will help you put the finishing touches on your home decorations.
Whole Foods Holiday Demo
Date: 12/19/2013 - (one-day event)
Location: 1550 N Kingsbury St
Come to Whole Foods Market in Lincoln Park on Thursday, 12/19 for a make-and-take Mini Canvas Ornament demo for your own personalized Holiday decor! Bring your family photos to create your own unique ornaments! We will be there from 10:30 am-11:30 am.
Note:
Prices and selection may vary between the internet and our retail stores, and all prices are subject to change without notice.
All of our locations are company owned and operated.