return to

illinois map
Blick in Galesburg, IL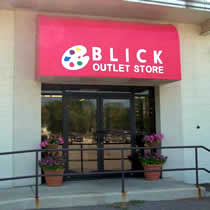 Address:
695 US Highway 150 East
Galesburg, IL 61401

Store Hours:
Mo-Fr: 9-7
Sa: 10-6
Su: 12-5
Upcoming Events
Halloween Demos & More!
Date: 10/30/2014 - (one-day event)
Location: In-Store
Join us for Halloween festivities in our store on THURSDAY, 10/30! Check out these awesome demos:
2-4pm: Candy tote bag decorating demo w/ stencils and fabric paint
4-6pm: Scratch art mask-making and facepainting by Alethea Penleric from Galesburgs Penleric Face/Body Painting
Local artist Gayle Mericle will have an art show hanging in our new gallery space! Come check it out. You'll also have the chance to enter to win hourly prizes from 3-6pm (must be 18 to sign up or be accompanied by an adult). Contact the store for details.
Note:
Prices and selection may vary between the internet and our retail stores, and all prices are subject to change without notice.
All of our locations are company owned and operated.