return to

illinois map
Blick in Galesburg, IL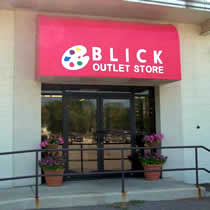 Address:
695 US Highway 150 East
Galesburg, IL 61401

Store Hours:
Mo-Fr: 9-7
Sa: 10-6
Su: 12-5
Upcoming Events
Retro Summer Memories Art Show!
Date: 7/24/2014 - 8/24/2014
Location: In-Store
CALL FOR ART! We are having a "Retro Summer Memories" themed art show in our Galesburg store! Submit your 8"x8" art to 2295blickart@gmail.com by JULY 16th! Art bust be wired & ready to hang. The show will hang from 7/24 through 8/24, with an opening reception on 7/24 5-7pm. The juror's choice and honorable mentions will be awarded gift cards!
One entry per person. Work must be brought to our store no later than 7/20 and picked up by 8/30. All artwork sales are handled by the artist and artwork must remain in our store for the entirety of the show. Please contact our store for more details.
Note:
Prices and selection may vary between the internet and our retail stores, and all prices are subject to change without notice.
All of our locations are company owned and operated.