return to

illinois map
Blick in Evanston, IL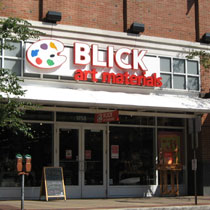 Address:
1755 Maple Avenue
Church Street Plaza
Evanston, IL 60201

Phone: (847) 425-9100
Fax: (847) 425-9200
Store Hours:
Mo-Sa: 10-8
Su: 11-6
Upcoming Events
Crescent RENDR Demo with Lynn Tsan
Date: 12/14/2013 - (one-day event)
Location: In Store
Blick Evanston is proud to present a special demonstration of Crescent RENDR paper by renowned artist Lynn Tsan! From 1-3pm on Saturday, 12/14, see this versatile and unique product in action as the artist presents all the capabilities of this truly No Show Thru Paper! Information about other Crescent products, including Marker Boards and Perfect Mount, will also be included in this hands-on demo. For more information about Crescent RENDR paper, please visit the Crescent Artists Studio Blog at http://crescentartists.com/artists-studio-blog/.
About the Artist: Lynn Tsan is an artist/writer/video producer currently residing in Chicago, IL. Her work has shown in several galleries in Minneapolis and Chicago, and is held in numerous private collections. She is presently working with a series of graphical collages/ digital drawings to produce unique architectural art, light boxes and furniture.
Note:
Prices and selection may vary between the internet and our retail stores, and all prices are subject to change without notice.
All of our locations are company owned and operated.