return to

illinois map
Blick in Chicago Loop, IL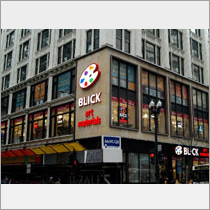 Address:
42 S. State Street
Corner of State & Monroe
Chicago, IL 60603

Store Hours:
Mo-Fr: 8-8
Sa: 10-8
Su: 11-6
Upcoming Events
Utrecht Products Now At Blick!
Date: 10/29/2013 - (ongoing event)
Location: In Store
Your favorite Utrecht products are at Blick! We now feature an expanded assortment of Utrecht products at this location, giving you the largest selection of quality art materials.
SAIC's ArtBash 2014
Date: 4/11/2014 - 4/25/2014
Location: Sharp Building & Gene Siskel Film Center
Blick is proud to support SAIC's ArtBash 2014!
On SATURDAY, 4/12 at the Gene Siskel Film Center, we will be awarding the 48.24.12 Video Competition Student Winners with store gift cards and nifty Blick tote bags! See below for the full schedule of ArtBash events:
GIF WWWRAPPED II – 4/11, 4:30-7pm, Sharp 215
INTER-ACTION – 4/11, 6-7pm, Sharp 326 & 327
48.24.12 Video Contest – 4/12, 12-2pm, Gene Siskel Film Ctr
Contemporary Practices Exhibit – 4/12-4/25, Sharp Building, Fls 1-3
Chicago Loop "Selfie" Show
Date: 4/23/2014 - (one-day event)
Location: In Store
Stop by the Chicago Loop "Selfie" Show on April 23rd from 6-8pm. This juried self-portrait show will feature a variety of mediums as artists compete for prizes and the bragging rights for best "Selfie"!
For more information, contact the Chicago Loop store at 312-920-0300.
Note:
Prices and selection may vary between the internet and our retail stores, and all prices are subject to change without notice.
All of our locations are company owned and operated.