return to

illinois map
Blick in Chicago Loop, IL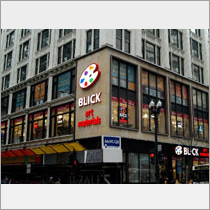 Address:
42 S. State Street
Corner of State & Monroe
Chicago, IL 60603

Store Hours:
Mo-Fr: 8-8
Sa: 10-8
Su: 11-6
Upcoming Events
Utrecht Products Now At Blick!
Date: 10/29/2013 - (ongoing event)
Location: In Store
Your favorite Utrecht products are at Blick! We now feature an expanded assortment of Utrecht products at this location, giving you the largest selection of quality art materials.
Fall Back to School Sale!
Date: 11/16/2013 - 12/14/2013
Location: In Store
Join us for a series of FREE in-store demos!
Wool Felting: Stop by on Saturday, November 16th from 1pm-3pm and Starr will guide you through the exciting world of needle felting! Discover step-by-step, basic techniques that can be applied to a variety of felting projects that will satisfy your creative side and impress your loved ones this holiday season.
Screen Printing: Come on down Saturday, November 23rd from 1pm-3pm; Jen will demonstrate simple processes in screen printing that you can do at home. Learn the basics with us to create a fall-themed print to take away and inspire a holiday themed space at home!
Floral Earrings: Just in time for the holiday gift-giving season, create a lovely gift that will certainly melt hearts and brighten faces. Join us Saturday, December 14th from 1pm-3pm and Stephanie will show you how to make beautiful, professional looking floral earrings using simple materials you can get at any Blick store.
All materials will be supplied by us, so stop by and leave with your very own pair!
Note:
Prices and selection may vary between the internet and our retail stores, and all prices are subject to change without notice.
All of our locations are company owned and operated.