return to

illinois map
Blick in Chicago Loop, IL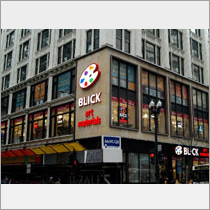 Address:
42 S. State Street
Corner of State & Monroe
Chicago, IL 60603

Store Hours:
Mo-Fr: 8-8
Sa: 10-8
Su: 11-6
Upcoming Events
Utrecht Products Now At Blick!
Date: 10/29/2013 - (ongoing event)
Location: In Store
Your favorite Utrecht products are at Blick! We now feature an expanded assortment of Utrecht products at this location, giving you the largest selection of quality art materials.
FREE In-store Demos
Date: 7/12/2014 - 7/26/2014
Location: In Store: 1-3pm
Don't miss our upcoming FREE in-store Demos! Descriptions below. Contact store for more details.
Paperclay & Fixing Techniques, Sat. 7/12, 1-3pm:
Commemorate summer in a lovely city by sculpting your favorite Chicago architectural icons. Join Joseph here in our store to create Chicago-themed trinkets using Paperclay and fixing techniques.
Gelato® Demo, Sat. 7/26, 1-3pm:
Compact acid-free pigment sticks glide on creamy smooth for vibrant color and coverage. All Gelatos® blend easily with or without water. Try this unique medium on paper, canvas, or wood! Stop by and Dorothy will guide you through the exciting medium of Faber-Castell Gelatos® .
Chicago Loop Alliance/ACTIVATE Event
Date: 8/1/2014 - (one-day event)
Location: In Store: 4-6pm
Blick supports the Chicago Loop Alliance and ACTIVATE events throughout the summer! Check out the next one on FRIDAY, 8/1, in the Target Alley at 16 East Monroe in Chicago from 4-6pm.
Enjoy special art programs, including a fashion runway event with students from the Early College Program Summer Institute. For more info on their program, visit: saic.edu/cs/high_school. TO SIGN UP FOR THIS EVENT, visit: loopchicago.com/activate
Note:
Prices and selection may vary between the internet and our retail stores, and all prices are subject to change without notice.
All of our locations are company owned and operated.