return to

georgia map
Blick in Savannah Broughton St, GA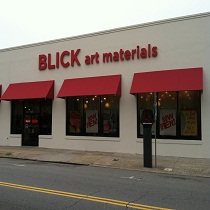 Address:
318 E. Broughton St.
Savannah, GA 31401

Phone: (912) 234-0456
Fax: (770) 206-2274
Store Hours:
Mo-Fr: 8-8
Sa: 10-7
Su: 11-6
Upcoming Events
First Friday Art March Savannah
Date: 5/2/2014 - (ongoing event)
Location: Savannah, GA
Blick Art Materials is now an official sponsor of The First Friday Art March! First Friday Art March takes place every first Friday of the month. It's a monthly collaborative community experience combining business, art, and the public. It provides a cultural and economic heartbeat in the Midtown district, spreading the vibrancy and entrepreneurial spirit of this area throughout the city.
First Friday Art March first began in 2012 as a way to foster exploration of the Starland area, between Forsyth Park and Victory Dr., focusing on art, entertainment, and local business. In July 2013, Art March was absorbed into Art Rise Savannah, who strive to develop and expand the Art March mission and vision for the future.
For more information, visit: http://artmarchsavannah.com/
FREE In-store Demos
Date: 7/18/2014 - 8/30/2014
Location: In Store
Don't miss our upcoming FREE in-store demos! Please contact the store for more details.
18th Airbrushing Panels
19th Airbrushing tote bags
25th Glass Panel Book making
26th Christmas in July
AUGUST:
1st Mold Making
2nd Mask Masking
8th Mixed Media painting
15th Book Binding
22nd Solar-powered print making
23rd Scratchboard
30th Paper Marbling
I Don't Want to Grow Up! Art Show
Date: 8/1/2014 - 8/31/2014
Location: In Store
Blick Gallery Presents: I Don't Want to Grow Up! Featuring artwork by students at Scribble Art Studio! Join us for a reception for this art show celebrating all of the timeless things that kid's love. The reception will be 8/22 from 6-8pm. Scope out the large scale collaborative paintings of robots, monsters, dollhouses, handmade toys, and cardboard cities. The exhibit will hang in the Blick Gallery at 318 E. Broughton St. for the month of August. We hope to see you there!
Ovation - GSU's Betty Foy Sanders Award Exhibition
Date: 9/1/2014 - 9/26/2014
Location: In Store
Don't miss "Ovation", an exhibition at the Blick Gallery showcasing Georgia Southern University's Betty Foy Sanders Department of Art visual art scholarship and award recipients for the 2014/15 academic year.
Awardees D'Antre Harris, Brittni Favorite, Emily Oren, Ruth Patel, Ray Pettit, Claudia Furlow and Whitney Reddish will be featured in the exhibition that will include drawing, sculpture, painting, graphic design and jewelry created.
Stop by the store to see it starting 9/1, through our closing reception on 9/26. Reception runs 6-8pm. Learn more about the Betty Foy Sanders Department of Art at the link below!
Note:
Prices and selection may vary between the internet and our retail stores, and all prices are subject to change without notice.
All of our locations are company owned and operated.