return to

georgia map
Blick in Savannah Broughton St, GA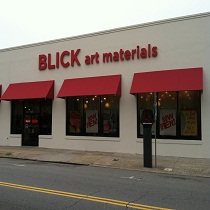 Address:
318 E. Broughton St.
Savannah, GA 31401

Phone: (912) 234-0456
Fax: (770) 206-2274
Store Hours:
Mo-Fr: 8-8
Sa: 10-7
Su: 11-6
Upcoming Events
Cloud 6 Gallery Show
Date: 4/3/2014 - 4/30/2014
Location: In Store - Opening Night: 4/3 from 6-8pm
Join us for a night of bizarre, funky, eerie, and whimsical lucid dreaming at our opening night of the Cloud 6 Gallery Show Thursday, April 3rd in the Blick Gallery from 6-8pm.
Six local Savannah artists, Jose Ray, Kelley Hagemes, Irene McCollam, LaShawn Floyd, Sunny Keeth, and Tara Garrigan will showcase surreal works in watercolor, ink, acrylic, oil, mixed media, and photography.
The Cloud 6 gallery show will hang the entire month of April.
First Friday Art March Savannah
Date: 4/4/2014 - (ongoing event)
Location: Savannah, GA
Blick Art Materials is now an official sponsor of The First Friday Art March! First Friday Art March takes place every first Friday of the month. It's a monthly collaborative community experience combining business, art, and the public. It provides a cultural and economic heartbeat in the Midtown district, spreading the vibrancy and entrepreneurial spirit of this area throughout the city.
First Friday Art March first began in 2012 as a way to foster exploration of the Starland area, between Forsyth Park and Victory Dr., focusing on art, entertainment, and local business. In July 2013, Art March was absorbed into Art Rise Savannah, who strive to develop and expand the Art March mission and vision for the future.
For more information, visit: http://artmarchsavannah.com/
Note:
Prices and selection may vary between the internet and our retail stores, and all prices are subject to change without notice.
All of our locations are company owned and operated.