return to

georgia map
Blick in Savannah Broughton St, GA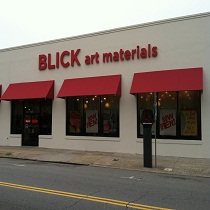 Address:
318 E. Broughton St.
Savannah, GA 31401

Phone: (912) 234-0456
Fax: (770) 206-2274
Store Hours:
Mo-Fr: 8-8
Sa: 10-7
Su: 11-6
Upcoming Events
Blick Gallery presents: "Spooky Girls"
Date: 12/1/2013 - 12/31/2013
Location: In Store
"Spooky Girls" is a combined show by artists Austin Highfield and Dame Darcy that examines the duality of 2D and 3D art work. In her graduate show, Highfield explores whimsical character creation and environments through 3D illustration, while Dame Darcy depicts a gothic approach to flat graphic comics and illustration. Please join us as we celebrate these artists' work and for a night of supernatural revelry! The show will be on display through the month of December, with the opening reception on Friday, December 13th, from 6pm-8pm.
Blick Gallery Presents: Figur8ion: A Show By Two Artists
Date: 1/1/2014 - 1/31/2014
Location: In Store
Candace Whittemore Lovely and Annabel Lee Hammet come together to expose form on canvas. Their work addresses forms in landscapes, still lives, and the human figure. The show will be on display throughout the month of January, with an opening reception on 1/9, from 6-8pm. Meet the artist Candace Whittemore Lovely on 1/11! Candace will be doing a live painting presentation in-store from 2-5pm. For more information about the artists in this show check out their websites below.
Note:
Prices and selection may vary between the internet and our retail stores, and all prices are subject to change without notice.
All of our locations are company owned and operated.