return to

georgia map
Blick in Roswell, GA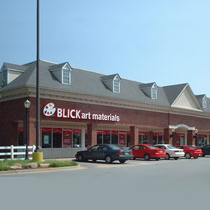 Address:
1165 Woodstock Road
Suite 830
Roswell, GA 30075

Store Hours:
Mo-Sa: 9-8
Su: 12-5
We are located inside Roswell Corners, behind the Chick-fil-A.
Upcoming Events
July Demos
Date: 7/5/2014 - 7/26/2014
Location: In Store: 1-3pm
Come join us for upcoming demos in July! All demos will be from 1-3pm. Contact the store for more details.
Saturday, 7/5: Paint Sampling: Use our Blick and Utrecht acrylics to create a mini canvas work of art.
Saturday, 7/12: Tie Dye: Have some summer fun and create your own tie dye t-shirt!
Saturday, 7/19: Monoprinting Demo with Jo Thacker: Make a unique one-of-a-kind artwork with this fun and easy printmaking process.
Saturday, 7/26: Artist Trading Card Swap: Come make an artist trading card and swap your tiny masterpiece with your fellow artists!
Note:
Prices and selection may vary between the internet and our retail stores, and all prices are subject to change without notice.
All of our locations are company owned and operated.