return to

florida map
Blick in Miami, FL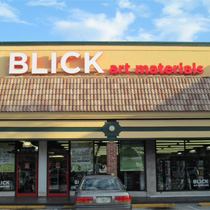 Address:
6250 South Dixie Hwy
Miami, FL 33143

Phone: 305-740-7077
Fax: 305-740-9977
Store Hours:
Mo-Sa: 10-9
Su: 11-7
Upcoming Events
Sizzling Summer Saturday Series
Date: 6/14/2014 - 8/9/2014
Location: In Store: 1-3pm
Our Sizzling Summer Saturday Series is back! The Miami store will be conducting free interactive printmaking demos throughout the summer. Join us this summer in sizzling Miami! Check out the schedule below and contact the store for details.
6/14 - Lumi Inkodye
6/28 - Lino-cut
7/12 - Mono-prints
7/26 – Etching
8/9 – Silkscreening
Note:
Prices and selection may vary between the internet and our retail stores, and all prices are subject to change without notice.
All of our locations are company owned and operated.