return to

florida map
Utrecht in Fort Lauderdale, FL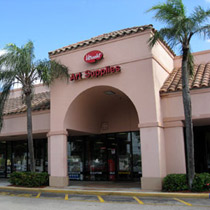 Address:
2354 North Federal Highway
Fort Lauderdale, FL 33305

Phone: 954-630-1482
Fax: 954-390-0847
Store Hours:
Mo-Sa: 10-8
Su: 12-5
Upcoming Events
In-Store Demos
Date: 7/12/2014 - 8/9/2014
Location: In Store: 2-4pm
Join us for summer fun at our FREE in-store demos on Saturdays!
THIS SATURDAY, 7/12, 2-4pm: Screenprinting
And don't miss our other upcoming demos...
Saturday, 8/2, 2-4pm: Public Black Book with Studio GPK
Saturday, 8/9, 2-4pm: Architecture 101
Note:
Prices and selection may vary between the internet and our retail stores, and all prices are subject to change without notice.
All of our locations are company owned and operated.