return to

districtofcolumbia map
Blick in Washington, DC, DC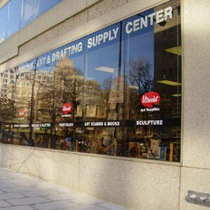 Address:
1250 I Street NW
Washington, DC 20005

Phone: 202-898-0555
Fax: 202-371-0689
Store Hours:
Mo-Fr: 9-8
Sa: 10-6
Su: 12-5
This location is on I ["Eye"] Street NW.
Upcoming Events
Spooky Demo Weekend
Date: 10/24/2014 - 10/26/2014
Location: In store
Let Blick put a spell on you! Come join us for a 3 day party of spooky and spectacular demos & contests! See our schedule below and contact the store for details.
10/24 - Artist Costume Contest. Voting will take place through the weekend and you could win up to $75 in store credit!
10/25,1-4pm - Mask Making Demo. Come decorate your most malevolent mask masterpiece!
10/26,12-5pm - Sugar Skull Demo & Contest. To participate, please sign up in advance. Winning artwork will be announced on 10/27. You could win up to $75 in store credit! See store for full contest details.
Note:
Prices and selection may vary between the internet and our retail stores, and all prices are subject to change without notice.
All of our locations are company owned and operated.