return to

connecticut map
Blick in Plainville, CT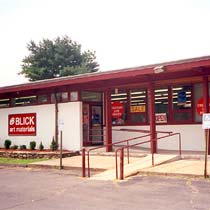 Address:
341 Cooke Street
Plainville, CT 06062

Phone: (860) 747-5551
Fax: (860) 793-2899
Store Hours:
Mo-Fr: 9-7
Sa: 9-6
Su: 11-5
Upcoming Events
OCTOBER DEMOS!
Date: 10/4/2014 - 10/25/2014
Location: In Store - 1-3pm
Don't miss our FREE hands-on, in-store demos every Saturday from 1-3pm. Check out the schedule below and contact the store for more details:
10/4 - Monster Munny's: Design your own monster. Purchase a Munny and come create with us.
10/11 - Pumpkin Painting: Using fast-drying paints, glitter, and other materials Blick has to offer to craft your pumpkin for Halloween!
10/18 - Face Painting: Snazaroo face paints with a Halloween twist!
10/25 - Monster Truckers: Combine Sharpie Fabric Markers with blank trucker hats to design your own awesome head wear.
Blick Can Drive
Date: 10/24/2014 - 11/21/2014
Location: In store
Blick Can Drive! Drop off non-perishable food items from October 24th to November 21st and we'll give you a discount!
Halloween Demos & More!
Date: 10/30/2014 - (one-day event)
Location: In Store
Celebrate Mischief Day with Blick at our Monster Mash Bash on Thursday, 10/30! There will be silly and spooky activities all day long for every monster big and small. Hunt for mysterious characters, create mischievous creature illustrations from 3-5pm and then hop on the Art Truck 4-6pm for a mask making adventure. Contact the store for details.
Note:
Prices and selection may vary between the internet and our retail stores, and all prices are subject to change without notice.
All of our locations are company owned and operated.