return to

connecticut map
Blick in Plainville, CT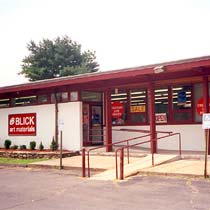 Address:
341 Cooke Street
Plainville, CT 06062

Phone: (860) 747-5551
Fax: (860) 793-2899
Store Hours:
Mo-Fr: 9-7
Sa: 9-6
Su: 11-5
Upcoming Events
AUGUST DEMOS!
Date: 8/2/2014 - 8/23/2014
Location: In Store - 1-3pm
Stop by anytime from 1-3pm every Saturday to participate in our free hands-on demos. This month's schedule is water-soluble media themed! Come check them out:
8/2: Create your own unique beach tote using simple block-printing techniques.
8/9: Experiment with Winsor & Newton's line of water-mixable oils.
8/16: Discover "Medium W," an amazing new oil painting additive from Schmincke that transforms traditional oil paints into watersoluable ones.
8/23: Explore the possibilities of watersoluable graphite.
Note:
Prices and selection may vary between the internet and our retail stores, and all prices are subject to change without notice.
All of our locations are company owned and operated.