return to

connecticut map
Blick in Plainville, CT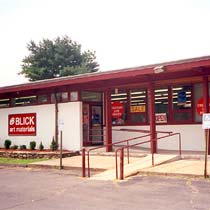 Address:
341 Cooke Street
Plainville, CT 06062

Phone: (860) 747-5551
Fax: (860) 793-2899
Store Hours:
Mo-Fr: 9:30-7
Sa: 9:30-6
Su: 12-5
Upcoming Events
Free In-Store Workshops!
Date: 5/4/2013 - 5/25/2013
Location: In-Store
Three Saturdays in May we will be hosting free demonstrations and workshops that will spark your hidden creativity. Check out our schedule below; all demos are held from 1-3pm:
Saturday, May 4: Pin Making
This workshop is not only great for Mother's Day gifts but can be used for all sorts of decorating.
Saturday, May 11: "Zentangles" Workshop
We will brush over this popular, relaxing art form. Create beautiful images by drawing structured patterns, shapes, and lines.
Saturday, May 25: Alexander Calder Mobiles
These kinetic sculptures are easy to make and are inspired by Alexander Calder, the originator of the mobile. Learn the craft of creating one of these structures that delicately move with wind power or currency!
PLUS, receive a 20% off your entire purchase coupon, only for participants of these workshops! We look forward to seeing you!
Note:
Prices and selection may vary between the internet and our retail stores, and all prices are subject to change without notice.
All of our locations are company owned and operated.