return to

california map
Blick in Santa Monica, CA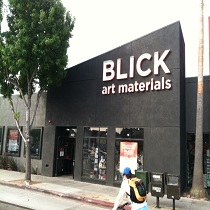 Address:
2602 Lincoln Boulevard
Santa Monica, CA 90405

Store Hours:
Mo-Fr: 9-8
Sa: 9-7
Su: 11-6
Upcoming Events
Utrecht Products Now At Blick!
Date: 10/29/2013 - (ongoing event)
Location: In Store
Your favorite Utrecht products are at Blick! We now feature an expanded assortment of Utrecht products at this location, giving you the largest selection of quality art materials.
Frightful Faces Halloween Demo Weekend
Date: 10/25/2014 - 10/26/2014
Location: In store
Join our store for a special Frightful Faces Halloween Demo weekend, 10/25-10/26! These FREE demos run from 10am-5pm:
10/25 - Face Painting Techniques
10/26 - Creepy Mask Making
Both days, each hour from 10am-5pm, we will raffle off a $25 coupon card to one lucky boil or ghoul. No purchase necessary (first drawing at 11am)! Plus, enjoy refreshments and special savings during the event! Contact the store for more details.
Note:
Prices and selection may vary between the internet and our retail stores, and all prices are subject to change without notice.
All of our locations are company owned and operated.