return to

california map
Blick in San Diego, CA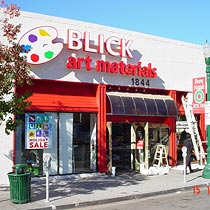 Address:
1844 India St
San Diego, CA 92101

Phone: (619) 687-0050
Fax: (619) 687-0055
Store Hours:
Mo-Fr: 9-8
Sa: 9-7
Su: 11-6
Upcoming Events
We're Proud to Support GreenFest
Date: 4/21/2014 - 4/24/2014
Location: Cal Coast Credit Union Open Air Theatre - 7pm (Doors Open at 6)
Blick Art Materials San Diego SDSU is proud to support GreenFest 2014 at SDSU!
GreenFest, presented by SDSU's Associated Students and SDSU's Enviro-Business Society, is a weeklong of events which encourage, celebrate, and advocate for sustainability, Aztec Pride, and diversity. The purpose of GreenFest is to engage the campus community through social and interactive programs in an effort to educate them on the important of living a sustainable lifestyle and to promote sustainable practices.
See more about this great event at http://as.sdsu.edu/greenfest/
WILD WEDNESDAY!
Date: 4/23/2014 - (one-day event)
Location: In Store
Join us for WILD WEDNESDAY in stores on 4/23! ONE DAY ONLY: Stop in for amazing deals and spin the PRIZE WHEEL! And don't miss Mural Mash-up from 1-6pm where you can try Utrecht paints!
Note:
Prices and selection may vary between the internet and our retail stores, and all prices are subject to change without notice.
All of our locations are company owned and operated.