return to

california map
Blick in Pasadena, CA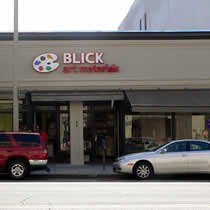 Address:
44 South Raymond Avenue
Pasadena, CA 91105

Phone: (626) 795-4985
Fax: (626) 795-5665
Store Hours:
Mo-Fr: 9-8
Sa: 9-7
Su: 10-6
Free one-and-a-half hour parking is available across the street in the old school house parking garage.
Upcoming Events
CALL FOR ART! Animal-Themed Youth Art Show
Date: 12/1/2014 - 12/12/2014
Location: In Store
Be part of a very special Animal-Themed Youth Art Show with Blick Pasadena. Open to students aged 4-17. To enter, submit your work to our store between 12/1 and 12/12 and include your name, the title of your piece, medium, dimensions and year completed.
Art is limited to 11"x14" and must come framed and ready to hang (if selected). The show will run Dec. 14-27th. Contact our store for further information.
Note:
Prices and selection may vary between the internet and our retail stores, and all prices are subject to change without notice.
All of our locations are company owned and operated.